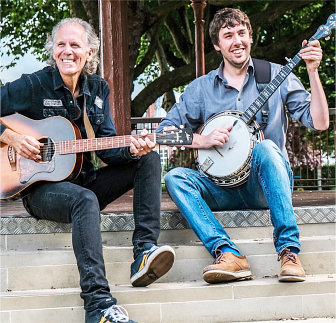 Wednesday 8th November - Brooks Williams & Dan Walsh
Admired by both listeners and fellow musicians alike, Brooks Williams and Dan Walsh combine talents for an extraordinary collaboration of British and Americana roots music. Brooks plays guitar with 'melodic virtuosity' (Irish News), effortlessly combining old-time fingerpicking, country flat picking and bluesy backbeats. Dan's 'virtuoso playing' (Morning Star) features a unique and dazzling take on claw hammer style banjo, helping to challenge all preconceptions about the instrument. Both bring buckets of charisma and talent to the stage. Add to that poignant songs and lively humour and the result is a truly remarkable duet.
'Absolutely terrific' (Mark Radcliffe, BBC Radio 2)
'An excellent, uplifting and cheering experience!' (Simon Nicol, Fairport Convention)
'Brooks and Dan were amazing, such fabulous musicians and entertainers, blew the place away!' (Johnny Fewing's, Whitstable Sessions)
https://www.brookswilliamsdanwalsh.com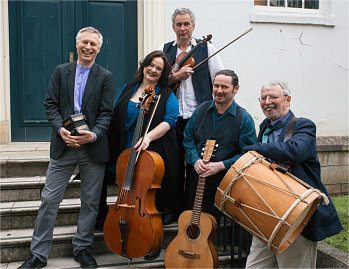 Wednesday 13th December - Magpie Lane. We are delighted to welcome back for our Christmas party this excellent five-piece band who are now in their 30th year of performing! Magpie Lane hail from Oxford and specialise in traditional English songs and tunes. They combine powerful vocals with vigorous tunes, performing a wide selection of Christmas carols, wassails and dance tunes, many of them quite unusual. Between them the band plays concertina, melodeon, bouzouki, cello, fiddle and guitar and all of them sing; when they burst into five part harmony it is a joy to hear. (Mulled cider and mince pie included as usual for our Christmas special!)
'A wonderful programme of songs and tunes suitable for winter and the Christmas season. Every member of the band gets a chance to sing and the instrumental arrangements are thoughtfully crafted and entirely appropriate to each song.' (Barry Goodman, Shire Folk)
'A quintessential expression of Englishness and musical and vocal excellence…' (David Kidman, Living Tradition)
http://www.magpielane.co.uk/index.html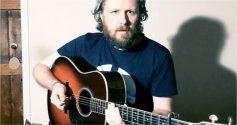 Wednesday 10th January - Jon Wilks
Jon Wilks is an acclaimed fingerpicking guitarist, singer of traditional folk songs and broadside ballads from the English repertoire and excellent songwriter. His background as a journalist (a former editor of Time Out magazine and contributor to The Guardian and other publications) means that he has a great eye/ear for a story and his shows are an amusing mix of folk song performance and storytelling. He throws in weird and wonderful titbits about the original singers and collectors that he has unearthed during his substantial research on traditional folk music in the UK and his performance is often described as both entertaining and informative.
'Jon's passion informs his shows, the songs liberally sprinkled with anecdotes, humour and history, his singing and personality hugely engaging' (folking.com)
'Wilks is a rather special performer with an authentic and abiding love of traditional song. His enthusiasm for its history and sheer joy at new discoveries is palpably irresistible' (FRUK Folk Radio)
'Wilks excels at reanimating broadside ballads and antique pieces with a dashing sense of verve on fingerpicked guitar.' (Uncut Magazine) https://jonwilks.online
ALL GIGS:
Venue: The Youth Hut (between Village Hall and Vine Pub), West Street, Hambledon PO7 4RW
Start: 8.30pm (doors open 8.00pm). Floor spots and guests welcome!
Entry: £12.00 (£10.00 members, £6.00 under 18s and students)
Drinks: From Vine Pub next door (or bring your own). Tea/Coffee available at the Club. BOOKING/RESERVATIONS: 023 9263 2719 or email: folkclubhambledon@hotmail.co.uk