The club is held in the Youth Hut, West Street, Hambledon PO7 4RW(adjacent Village Hall and next to The Vine pub).
It's a small venue which, while part of its charm means space is limited - booking is strongly advised. Hambledon Folk Club offers a friendly and intimate setting enjoyed by artists and audience alike: many performers comment on the warmth of their reception and a true folk club atmosphere. Nowadays the club features local, national and even international guest performers while invariably there is the traditional floor-spot session before the main act for local or visiting performers to each sing a song or play a tune or two.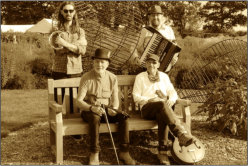 Wednesday 13 July - Alfonso The Magnificent
Alfonso the Magnificent is an innovative and exciting group, mixing traditional genres of modern folk, Latin, jazz and Classical music to create a unique sound of their own. They perform original songs ranging from melancholic, emotionally charged ballads to toe-tapping upbeat dance tunes. They are a four-piece band from Shoreham by Sea, West Sussex: Violinist Mervyn Wallis, Singer/Guitarist Leo Gibbs, Accordionist David Warner and Percussionist Nathan Marshall. A great, live act!
'Your fabulous music and the whole spirit of the day was joyful! We couldn't have asked for anything more and everyone loved it!' The Prairie Gardens Management Team, August 2020.
'It was a great night really enjoyed and much appreciated by the audience.' The Ropetackle Arts Centre management team, Oct 2020
http://alfonsothemagnificent.co.uk
https://www.facebook.com/alfonsothemagnificent/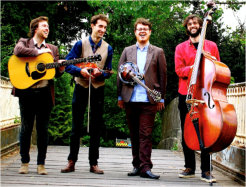 Wednesday 14 September - The Often Herd
The Often Herd is a four-piece band - guitar, mandolin, fiddle and bass - who play and sing an eclectic mix of folk, bluegrass and acoustic roots. They marry the wistful sunshine harmonies of Southern California with the striking industrial allure of their North Eastern (England) home! An engaging and dynamic live act, the band are able to pull off their intricately arranged material alongside moments of spontaneous improvisation. Their sound is both boldly contemporary and soothingly familiar, taking time-honoured traditions to new places with a fresh perspective. Flock to the herd, you won't be disappointed!
"A study in virtuosity from a supremely talented group of musicians." Claire Dupree, NARC