The club is held in a small venue which, while part of its charm means space is limited - booking is strongly advised.
Hambledon Folk Club offers a friendly and intimate setting enjoyed by artists and audience alike: many performers comment on the warmth of their reception and a true folk club atmosphere. Nowadays the club features local, national and even international guest performers while invariably there is the traditional floor-spot session before the main act for local or visiting performers to each sing a song or play a tune or two.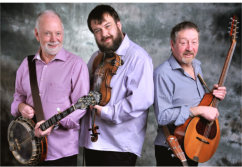 Wednesday 11th March - North Sea Gas
We are pleased to welcome back to the club Scotland's foremost folk entertainers. This hugely enjoyable band combine guitar, mandolin, fiddle, bodhran, banjo, whistles and bouzouki with fine vocals and tremendous three-part harmonies. Expect a mixture of traditional and original material along with plenty of humour and story-telling; an evening of great songs and great craic!
'There's a tremendous vigour and sense of commitment to North Sea Gas' performances.' (David Kidman,Living Tradition). 'No airs and graces just fantastic music'… (EdinburghGuide.com -Edin/Festival)
'The band displays an attachment and reverence for their roots from the very start. The music feels genuine, unpretentious and spontaneous.' (Celtic Radio - Boston)
Wednesday 8th April - The Wilderness Yet
This new trio combines the acclaimed talents of Rosie Hodgson, Rowan Piggott, and Philippe Barnes. Rosie, a finalist for the BBC Young Folk Award, has a voice that brings "a ruby-richness to lyrics new and old" (Folk Radio UK), Rowan is a traditional fiddler and a fine singer with a "deep understanding and feel for tradition" (FolkWords) and Philippe is a virtuosic flautist and magnificent guitarist. Independently they are consummate musicians; together they weave a tapestry of traditional and self-penned songs with a charm and familarity that is usually only found in seasoned line-ups.
"The Wilderness Yet combine exceptional individual instrumental and vocal abilities with a deft collective touch in their arrangements of traditional and original repertoire. Not just engaging performers, they're also folk scene activists and advocates." (Steve Hunt, Bodmin Folk Club) https://www.thewildernessyet.com
Wednesday 13th May - Vicki Swan and Jonny Dyer http://www.swan-dyer.co.uk
Wednesday 10th June - Magpie Lane http://www.magpielane.co.uk/index.html
ALL GIGS:
Venue: The Youth Hut (between Village Hall and Vine Pub), West Street, Hambledon PO7 4RW - Start: 8.30pm (doors open 8.00pm). Floor spots and guests welcome!
Entry: £10.00 (£8.00 members, £5.00 under 18s and students). Drinks: From Vine Pub next door (or bring your own). Tea/Coffee available at the Club.
ENQUIRIES AND BOOKING/RESERVATIONS: phone 023 9263 2719 or email: folkclubhambledon@hotmail.co.uk Website: https://www.hambledonfolkclub.com