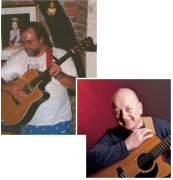 Wednesday 10 January - 21st anniversary party! Special event with celebrated guest performers (many local) who have appeared at Hambledon over the years (and helped get it going in the early days including in our first year - 1997). In this evening to mark Hambledon Folk Club's 21 years, floor spots will be provided by former organisers and MCs of the club while the guests include popular artists such as George Wilson, Ramskyte and Tom Lewis…assuring a really great evening! Ramskyte will be reforming as a three-part a cappella group to present some of their 'greatest hits'! Their strong voices create a rich sound with unusual vocal harmonies. Take The Shilling are local singer and guitarist George Wilson and singer/song-writer Paul Openshaw from Dorset. They are teaming up once more to recreate their own, highly entertaining act.
http://www.oldfocsle.org.uk/SCoFF/georgewilson/ and http://paulopenshaw.com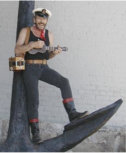 Tom Lewis hardly needs any introduction to Hambledon. He is a retired submariner who sings songs about the sea: shanties, his own compositions and miscellaneous numbers, sometimes accompanying himself on ukulele or button accordion. He has a strong, clear voice and will soon have you singing along to his rousing choruses. Tom chats easily with his audience and punctuates his songs with interesting stories and anecdotes. www.tomlewis.net

Wednesday 14 February - Barrie and Ingrid Temple Barrie and Ingrid are well-established harmony singers from Newcastle upon Tyne with superb voices. Returning to Hambledon by popular demand, their stirring songs are mainly traditional (both serious and humorous) with original arrangements and accompaniment by Barrie on English concertina and guitar. They also sing Barrie's songs, written in traditional style, many of which have been recorded by other performers both here and abroad. Their warm personalities and Geordie humour as they chat and sing to their audience ensure a lively, engaging performance. "Like friends singing to friends!" (Paul Ryan, Black Diamond Folk Club)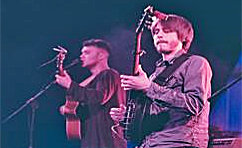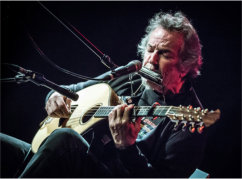 Wednesday 14 March - The Sam Kelly Duo Sam Kelly & Jamie Francis: Sam writes and arranges most of his material with his main musical collaborator, Jamie Francis. After meeting at university in Brighton and discovering a common interest in roots music, Sam and Jamie began playing together in a folk band, with Jamie (already a guitarist) learning the banjo because Sam was already the guitarist. They still often perform together at folk clubs, venues and festivals, providing inventive interpretations of tunes and songs in between (occasionally) funny anecdotes and stories of their misadventures. The outstanding Sam Kelly "A captivating performer...seriously…check him out!" (Sean Lakeman) is joined by Jamie Francis "Exemplary Banjo" (Folkradio.co.uk) – two formidable talents together for this gig!
www.samkelly.org and https://www.jamiefrancismusic.com
Forthcoming Events:
Wednesday 11 April – the incomparable Andy Irvine!
ALL GIGS:
Venue: The Youth Hut (between Village Hall and Vine Pub), West Street, Hambledon PO7 4RW Start: 8.30pm (doors open 8.00pm). Floor spots and guests welcome!
Entry: £10.00 (£8.00 members, £5.00 under 18s and students)
Drinks: From Vine Pub next door (or bring your own). Tea/Coffee at the Club
CONTACT: ENQUIRIES AND BOOKING/RESERVATIONS: phone 023 9263 2719 or email: folkclubhambledon@hotmail.co.uk Website: https://www.hambledonfolkclub.com