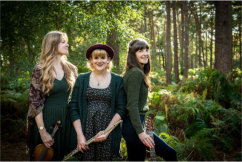 Wednesday 9 May - SAID THE MAIDEN -Said The Maiden are Jess Distill, Hannah Elizabeth and Kathy Pilkinton; three friends who discovered a mutual love of folk music when they reunited several years after spending their school years together in Hertfordshire. After tentatively performing a few songs at their local Folk Club, the group soon gained a great deal of interest on the local and national folk circuit, securing major support and headline slots at folk clubs and festivals around the country. The trio has also opened for many great artists including The Full English, Jim Moray, Martin Carthy, Cara Dillon and Fairport Convention. They were also honoured to join legendary fiddler the late Dave Swarbrick on a successful UK solo tour in the spring of 2014, and have since performed in Germany and Portugal as well as across the UK. Their new album "Here's a Health" was released to great acclaim in November 2017. "I like anything these girls do, they mean it! Their harmonies are extraordinary." (Dave Swarbrick). "Their combination of distinctive voices lacing intricate harmonies through original and traditional songs is supremely addictive." (Tim Carroll, FolkWords). "Rising doyennes of the folk scene...I can hear why Said The Maiden have already made themselves a healthy reputation, and I can also sense a strong measure of untapped potential." (David Kidman, FATEA Magazine). http://www.saidthemaiden.co.uk/ (Winner of Folking Awards "Rising Star" prize 2017.
Wednesday 13th June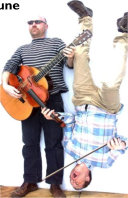 COSGRAVE and BANKS
Hailing from Devon, Mike Cosgrave (accordion, guitar, whistle) and Steve Banks (fiddle, vocals, Hardanger fiddle, guitar) are two superb musicians each with an impressive musical pedigree. Mike's varied career includes work with artists as diverse as the late "Celtic Soul" singer Jackie Leven, current popular folk singer Jackie Oates, and bluegrass virtuosos Daily Planet. He started out with renowned late 90s Celtic/World music crossover band Sin é. Steve began his career as a classical violinist, playing with the London Symphony Orchestra and the Chamber Orchestra of Europe. He is also a long-time member of the Carnival Band, including their ever-popular Christmas tours with Maddy Prior and has played with Celtic folk-rock group Chanter. Together, Cosgrave and Banks pay a range of styles including gypsy jazz, classical and folk music from around the world along with their own compositions. "Superb playing and singing, all with a great sense of style and fun!" (Tom McConville, Newcastle musician); "Fine versions of traditional songs and some excellent self-penned material, all underpinned by top quality musicianship." (Anton Horwich, Folk On The Moor folk club); "Their level of brilliance across a wide range of musical traditions is astonishing and a joy to listen to. Treat yourself!" (Bruce Millar, Totnes Folk Club). http://cosgraveandbanks.com
Wednesday 11th July – WILD WILLY BARRETT'S FRENCH CONNECTION (You really will have heard nothing like it)!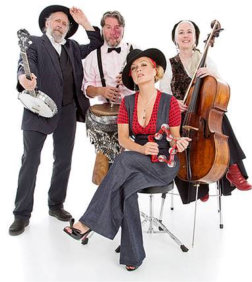 Wild Willy Barrett, known as the Godfather of Grunge Folk, is a highly respected musician whose styles include folk, blues, gypsy jazz, reggae, bluegrass and punk. His latest musical ensemble, Wild Willy Barrett's French Connection, brings together a diverse group of musicians from the UK, Ireland and France - and features an original melange of French, Irish and English acoustic arrangements. From a cafe in Paris, via a hooley in Dublin, to a night out in New Orleans - this band does it all using everything from a guitar, cello, fiddle, Uilleann pipes and banjo (and some exquisite singing) to provide a truly inimitable musical experience! "A unique and heart-lifting tour de force of universal musical themes, rhythms and melodies." (Helen Smith, Old Fire Station venue, Oxford). "A wonderful evening of unique and fresh musical entertainment!" (Simon Icke, Limelight Theatre, Aylesbury). http://www.wildwillybarrett.com/french-connection
ALL GIGS:
Venue: The Youth Hut (between Village Hall and Vine Pub), West Street, Hambledon PO7 4RW - Start: 8.30pm (doors open 8.00pm). Floor spots and guests welcome!
Entry: £10.00 (£8.00 members, £5.00 under 18s and students)
Drinks: From Vine Pub next door (or bring your own). Tea/Coffee available at the Club
CONTACT:
ENQUIRIES AND BOOKING/RESERVATIONS:
phone 023 9263 2719 or email folkclubhambledon@hotmail.co.uk
Website: https://www.hambledonfolkclub.com