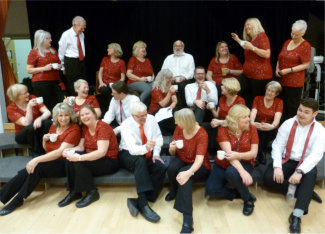 Summer is a-cumin in, or so they'd have said in medieval England! Local a cappella choir Folks In Harmony are celebrating the arrival of summer too with a bright selection of music and song. You'll get a warm welcome at their Summer Spritzer show and great
entertainment in a variety performance of showtime, popular and traditional songs, piano/cello recitals, octets, and blazing comedy too.
Since forming in 2012, Folks In Harmony has developed into a 40-strong, award-winning choir that regularly sings and participates in local community events. The choir also stages two shows per year to raise funds for local charities. This year's fund-raising goes to Key Changes Music Therapy based in Winchester and the Hampshire & IOW Air Ambulance.
We hope you'll come along on Saturday 21st July to the Church of the Resurrection in Drayton, Portsmouth and join in the fun. Performance starts 7.30pm with doors open from 7pm. Tickets only £8 (includes fizz and ice cream) are available from Ollie on 023 9236 6508, or via our website: www.folksinharmony.co.uk - and if you're interested in joining us, we are always on the lookout for men and women who love to sing. More information on our website.