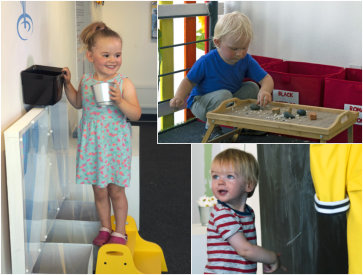 Families are already enjoying free drop-in activities at The Spring Arts & Heritage Centre, where young people can complete activities and learn facts about the history of Havant Borough in order to become a "Havant Historian".
The activities in the exhibition are based on key points in the borough's timeline, from exploring the history of Havant's natural springs and the old Homewell Parchment Works through to celebrating the success of Scalextric and its Havant-based production factory. Young people can take part in activities including racing Scalextric cars, building a Roman road and marking their house on our wall-sized map of the borough. Throughout the holidays, The Spring's café will also be open and serving a number of summertime specials alongside their standard menu.
Faith Davies, Participation Officer, said: "The Spring is delighted to be able to provide these free activities for families this summer. It is really important to us that everyone in our local community is able to engage with arts and culture. We hope that young people and their families will join us this summer to have fun and learn about the history of our town."
The free drop-in activities are located in The Spring's Upper Mezzanine gallery until Friday 31 August and are available during standard opening hours. Children must be accompanied by an adult.
The Spring Arts & Heritage Centre is supported by Arts Council England, Havant Borough Council and Hampshire County Council.