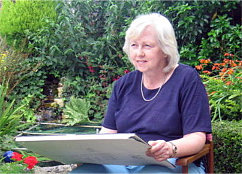 30th June to 29th July weekends only - Saturdays 10-30 am – 4-30 pm and Sundays 2-30 pm – 4-30 pm, an exhibition of paintings by award winning local artist Angela Loader at the Emsworth Museum called Town Land and Sea.
Angela will be there for anyone wishing to meet and discuss painting with her.
Her work is returning to the museum after a successful solo exhibition in July 2012. Angela has been inspired by the fast and ever-changing developments all around us, to combine the history of the town with the beauty of the surrounding landscape and coastline.
Angela aims to capture moments in time, embracing contrasts and highlighting the atmosphere, moods natural colours and effect of light throughout the season's. Working in Watercolours, Oils, & Acrylics. Original paintings, prints & new range of greeting cards, will be available for purchase during the exhibition.