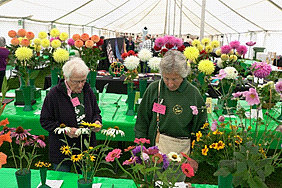 The Emsworth Horticultural Society is set to celebrate its Centenary Year at the Emsworth Show this summer at a new site, The New Life Christian Church, Emsworth.
As the founding event of the Emsworth Show, the Horticultural Society never fails to deliver a wonderful display on locally grown produce, arts and crafts and is an amazing community event with 150 volunteers, 20 judges and over 100 exhibitors taking part in the Horticultural Marquee as well as lots of craft, gardening and food stalls.
This year promises to be even more spectacular as the society celebrates their Centenary Year at the show on Bank Holiday Monday, 26th August from 10:30am until 5pm with a fun packed day filled with local exhibits, stalls, entertainers, fun dog show and the new attraction in the main arena will be the Circus performers. The Circus performers will also be running free children's workshops during the day.
The show moves to a new site for 2019. The New Life Christian Church opens its door and hearts to provide a stunning background for the show!
The Emsworth Show Summer Exhibition is open to all the family at £5 per person and free for under 12's. Taking place in the main marquee, there are over a hundred classes open to everyone including novices and will be open to the public between 12:30pm until 4:30pm.
These classes include fruit and vegetable produce, cookery, flower arranging, photography, crafts and children's sections which include animals created from vegetables and miniature gardens.
Judging takes place in the morning and the exhibition is then open for public viewing at 1pm. The display is always worth seeing and you might be able to snap up a bargain at the end of the show when many entries are auctioned off.
There are a range of entry fees for the open classes in the marquee, children and adult classes start at 20p per entry and all entries are anonymous unless they win a prize. New exhibitors are always welcome, so why not enter and try your luck.