January 8th - Resolutions' Meeting
January 22nd - Film Evening
February 5th - W.I. Meeting: Factory at War (the story of Shippams, Chichester)
February 12th - Film Evening
March 4th - W.I. Meeting: C.S. Lewis: Beyond Narnia
March 11th - Beetle Drive/Fish and Chip Evening
March 18th - Film Evening
March 25th - Hampshire Federation of W.I.s Spring Council Meeting at Portsmouth Guildhall – Speaker Ben Fogle
April 1st - W.I. Meeting: Violet's Titanic Escape.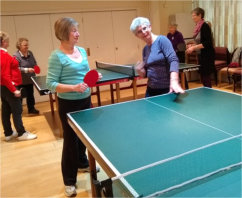 Dates for table tennis tbc.
If you are interested in joining our friendly and active institute we would love to see you. Our meetings are held on the first Wednesday of the month (except August) in the Meeting Place, Elm Lane, Havant. PO9 1PP. Please feel free to come along or,alternatively, you can contact Larraine Combes 023 9245 5913 or Pat Galliers 023 9247 0707 for further details.