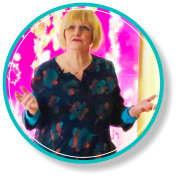 Our meeting in March was a real treat with Janet Goring coming to entrance us with her storytelling.
Janet calls herself "Bluebird the Storyteller", and we soon found out why. First of all she explained the many different types of storytelling from fables, legends, myths and folklore.
Janet knows over 250 tales by heart. She began with no notes or prompts.
We were completely enthralled with her stories; some with very unpredictable endings! which kept us engrossed right to the end.
Janet used her own actions and different voices which all added to a magical atmosphere.
She entertains children and adults alike and we were sad when she finished as we were so happy in our enchanting magical mood.
It was a lovely way to spend an afternoon and run away from some of the miseries of the worlds problems.