Holborow Lodge, Chalder Lane, Sidlesham, W. Sussex PO20 7RJ
HULKY BEAR
Hello from your favourite out and about reporter at the Cat and Rabbit Rescue Centre, Hulky Bear.
I hope you have been enjoying the wonderful summer we have been having. Gosh how hot has it been? Just too hot for me to do too much reporting, I tried to delegate some of my workload but the other out and abouters told me they were too busy catching the sunshine.
Another busy month with lots of new arrivals at The Centre we are full of cute kittens, stunning adult cats, rabbits and a few guinea pigs. Now the holidays are over and we didn't win the World Cup, if you or anyone you know is thinking of adopting an animal please ring The Centre between 9am-4pm Monday to Friday.
Some amazing news you may remember pets of the month a few months ago called Jimmy and Jey. Little Jimmy has cerebellum meaning his co-ordination and balance are a bit wobbly and he falls over when walking. We have found them a fantastic home with a special family who will be able to give them the love they need.
We often have nervous animals here waiting to be adopted they often wait longer than the very friendly ones. They get very sad waiting, I wanted to help bring their confidence out. I thought if staff and our volunteers each had a one very special animal they could give a little extra time to each day this would help them. Little Nate a young stray cat would never come out of his play tunnel when we went to see him. Over the last few months Claire has been sitting with him interacting, you should see Nate now; he loves to play and enjoys company. Learning about tickles is new but what a change in Nate. I tried to pretend I needed extra handling but the staff say rolling around on my back for tummy tickles doesn't count. I wonder why?
Take care and see you next month
If you are interested in adopting a cat, kitten, rabbit or guinea pig then please call us here at the centre on 01243 641409 between 9-4pm during the week.
PS: We have a Viewing Day Saturday 22nd September 12-2pm or our Back Cat Halloween Viewing Day 27th October 12-2pm - The Centre will be decorated and staff in fancy dress. Come along and view our very special black cats and kittens (or any other colour) and have some spooky fun with us.
Viewing days are non-appointment days so people thinking of adopting a cat can pop along. Otherwise we re-home 7 days a week by appointment only.
AYLA - PET OF THE MONTH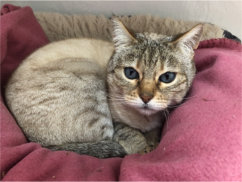 We introduce you to Ayla a stunningly beautiful 11 year old snow Bengal cross. Ayla has been with us since March when she arrived as her owners were moving somewhere that had no garden and Ayla loves to go outside. Ayla is very loving once she gets to know you, a little shy at first. She demands attention on her terms, telling you once she has had enough fuss. She is very independent and happily plays on her own. She can be possessive about her toys and we can often hear her talking to her blanket and toys while she plays, even telling them off at times. We would like to find Ayla a quiet and relaxed home with no young children and no other cats; she really doesn't like them and would definitely chase any others from your garden. Ayla would make a wonderful companion for someone and has so much love to give. If you think you may be able to give Ayla the new home she deserves please give The Centre a call Monday to Friday from 9am-4pm.