Good day from your favourite out and about reporter at the Cat and Rabbit Rescue Centre, Hulky Bear. Reporting to you live from the Centre.
Summer is almost here the rabbits are happily living back in the outside enclosure having so much fun playing on the grass, we have almost finished our building work and we are looking good again.
I am feeling a little tired. I like to have a lie in the mornings; lately the rooks that nest nearby have been making so much noise waking me up at the crack of dawn. I have to put my head under a duvet for some extra sleep. When I finally get up it's nearly lunchtime, which I spend sitting outside with the staff waiting for tickles. Most of the time I am the star attraction but our goat Fuchsia joined us the other day and took over my role. The staff think Hulk on your lap is a lot easier than Fuchsia!
An update on last month my friend and fellow out and abouter Carlos has now chosen his new house. He has taken residence by the entrance next to the stream. That way he gets a nice view and can keep an eye on security.
A date for your diary Sunday 12th August it is our Summer Fayre. One of our most popular stalls is the 'Bottle Stall' if anyone has any unopened bottles they are not in need of anything from bubble bath to alcohol we would be very grateful for donations to ensure we have lots of prizes to give away. More details on the fayre next month will follow.
Some sad news to finish with our matriarch of the out and abouters Ada Pretty sadly passed away after a sudden illness. Ada was almost in her 20's, she loved sitting watching what was going on here. We will all miss her so much.
Take care and see you next month.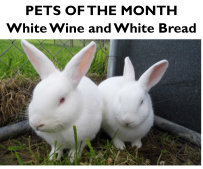 If you are interested in adopting a cat, kitten, rabbit or guinea pig then please call us here at the centre on 01243 641409 between 9-4pm during the week.
PS: We have a Viewing Day Saturday 23rd June 12-2pm. Viewing days are non-appointment days so people thinking of adopting a cat can pop along. Otherwise we re-home seven days a week by appointment only. Pet of the Month
This month allow us to introduce you to two very sweet white rabbits White Wine and White Bread. They are brother and sister who came here as their owners were unable to be sold privately when they were babies. They are almost a year old and would love to find a happy home. Often they are overlooked as they have red eyes and does mean sometimes people are put off by the colour. They are happy to be handled and spend lots of time playing with their toys and running around their enclosure. They love each other and are often snuggled up together when they are relaxing. If you think you may be able to give White Wine and White Bread the new home they deserves please give The Centre a call.