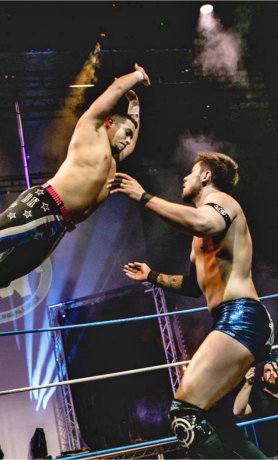 The show, on March 2, will feature an all-in American Rumble, in which the wrestlers can only be eliminated by being thrown out of the ring over the top rope, and the last man left standing is the winner.
Top UK matchmakers Premier Promotions, who are presenting the event, have been staging shows for more than 30 years, but this will be their first Wrestling Spectacular in the town. Promoter John Freemantle believes the Pallant Centre could become a regular venue hosting the giants of the grappling game.
"Havant hasn't had top-class wrestling events before, and all the signs are that our first show will be a sell-out. So if it goes well, we will be looking to bring top names to the Pallant Centre on a regular basis," he said.
The opening show will also include tag-team and solo matches, and among the stars in action will be one of the biggest men in wrestling, man mountain Karl Atlas, from Waterlooville, who when he isn't swapping holds in the ring teaches at a Havant school.
Also set to appear are Petersfield's Andy Boy Simmonz, who has wrestled on the under card on the WWE's shows in the UK, and reigning PWF title-holder "Dazzling" Darrell Allen.
Tickets for the show, with discounts for advanced bookings, are available from the Pallant Centre or the Parish Office in North Street, Havant, or on line at www.thepallantcentre.com