Beer festivals are a great way to sample beers from breweries far and wide and try out some new styles. Here are a few you might want to try.
Great British beer festival 2-6th August
Olympia London
Hundreds of different beers available. Cask is king here although keg is making an appearance as well now.
Warrior Fest 5 & 6th August
HMS Warrior
Craft beer on HMS Warrior!
What's not to love.
London Craft Beer Festival 12-13th August Tobacco Dock London
Emsworth show
May bank holiday 29th August
Thorny road Emsworth
Not technically a beer festival but as usual we will serving our beer at the event.
We aim to have at least 4 different cask beers available.
Emsworth beer, cider & wine festival 23rd-25th September
Emsworth community centre
A good traditional beer festival with a wide range of beers, ciders and wines.
Oktoberfest 17th August - 3rd October
Munich Germany The 187th Oktoberfest!
Fancy drinking out of 1L steins and dancing on the tables to brass bands. This is the festival for you. Prost!
Brewhouse beer festival? We have thought about starting up our own festival. If you think we should let us know!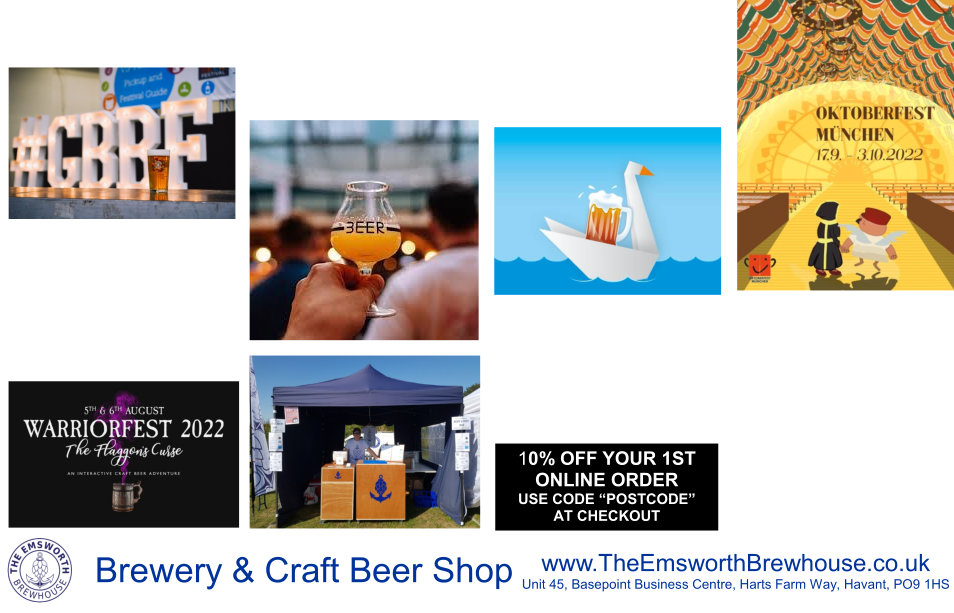 By
Jonathan Khoo, Brewer & owner at The Emsworth Brewhouse