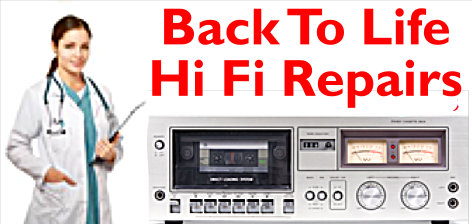 We specialise in the repair of vintage audio equipment, from Cassette Decks to Turntables and CD Players etc.
Our mission is to stop vintage HiFi equipment ending up in a landfill, we believe in "Where There's Life There's Hope".
Our engineers, Sally & Richard, have many years experience of repairing HiFi equipment that would otherwise have ended up in the great HiFi heaven In The Sky.
If you have a piece of HiFi equipment that you would like repaired, why not give us a call.
If you are going to throw away a piece of HiFi equipment, why not let us have it, and we will attempt to repair it.
We are rapidly building a great reputation and have many repeat customers but would love you to bring us your HiFi repair needs.
We specialise in repairing and servicing vintage HiFi, nothing is too much trouble. We want to keep people's equipment alive and out of landfill.
We have a range of pre-loved equipment for sale, plus new "old stock" cassettes. There is a separate demo/listening room available to trial our repairs or any equipment that customers may want to buy.
Go to our website for more information at: www.btl-repairs.co.uk