Monday 15th April for 1930 hrs - 'The Gloster Meteor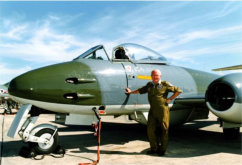 Development' presented by Mr Rod Dean
Rod Dean is returning to Air ACES to give another of his spectacular talks. This time he will be presenting 'The Gloster Meteor Development'. It will be a detailed look at the development of the early jet engines and aircraft that led to the Gloster Meteor aircraft in the early 50s.
Rod will explain how the Meteor was developed throughout its service career, with the different variations of this wonderful aircraft. He will also be looking at the use of the Meteors for a wide variety of experimental activities, after its front line use.
Finally, he will give a review of the surviving flying Meteors which are still around after 70 years! This talk will include a number of videos showing the Meteor during its career.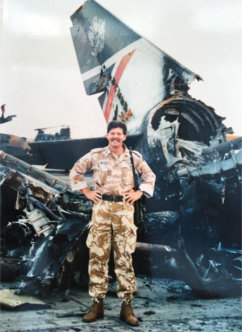 Monday 25th March for 1930 hrs - 'Tales of an Accidental Aviator' presented by Major George 'Smokey' Bacon MBE TD AAC(V)
At the March meeting of Air Aces, Major George (Smokey) Bacon will be telling the story of his journey into joining the RAF and his subsequent transfer to the Army Air Corps, with a few adventures on the way. This in turn led to his joining Pilatus Britten Norman (PBN Ltd), on the Isle of Wight.
He will give an overview of his wide activities in the UK Air Display circuit and his work in establishing the Historic Flight Charitable Trust, at Middle Wallop, before bringing us up to date with his current engagement as a well-known commentator and Flight Director for air shows and air displays across the UK.
This talk promises to give a fascinating and entertaining insight into a remarkable and varied career in aviation.
AirACES is an aviation talk society, providing its members with regular talks, given by experts in many different fields related to the world of aviation.
The talks are held at the Chichester Park Hotel, Westhampnett Road, Chichester, 6.45 for 7.30 pm. Members £3, visitors £5 and under 16s FREE. No pre-booking
For further information about AirACES, please see www.airaces.org.uk, or call David Batcock on 01243 823007