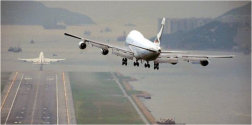 Monday 26th November - 1845 for 1930 hrs
'A Day in the life of a 747 Captain - Presented by Kim Sharman
Kim Sharman has led the life of an aviator. From his youth he wondered where he was bound in life, and joined the Fleet Air Arm in 1965. Kim flew Sea Vixen fighters in the Royal Navy, serving for two operational tours on HMS Eagle.
After leaving the Royal Navy, he joined BOAC as a First Officer on the VC10. Thereafter he joined Cathay Pacific, flying firstly the Boeing 707 and then the Boeing 747 (Jumbo), where he became a captain, until he retired in 1998.
Kim will answer a question that many of us wonder, every time we fly in a 'Jumbo' - how do such huge beasts as the 747, actually manage to fly, navigate to the other side of the world and then land in fog? Kim's presentation starts to tell to tell that story, sprinkled with some airline stories and video. It also includes film of a landing at the legendary 'old' Hong Kong airport - Kai Tak - where, by a happy coincidence, he flew the last commercial flight out of this airport, which was shut down immediately after he was airborne.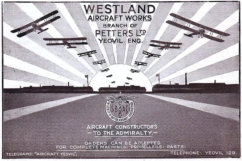 Monday 10th December - 1845 for 1930 hrs
'The History of Westland Aircraft' presented by Bill McNaught - This fascinating story of Westland will cover the 70 years from its inception, by 'ironmongers' Ernest & Percival Petter in 1915, through its fixed wing design and production period, ending in 1948, and finally its far sighted decision to initiate helicopter production, up to the 'Westland affair' of 1986, which led to major changes in ownership. Bill will also include some of his own reminisces from his 25 years working at Westland.
Tales from a 'Bomber Boy' - on the Lancaster Bomber presented by John Bell DFC MBE RAF (retd.) - John Bell was a Bomb Aimer in WW2, on the Lancaster Bomber that is currently flown by the Battle of Britain Memorial Flight. One of the famous 'Bomber Boys', John will be telling some tales of the time that he served in this Lancaster Bomber aircraft, as well as showing some films about the Lancaster and the Bomber Boys.