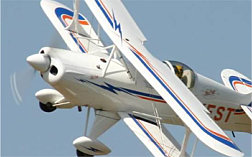 Monday 24th September - 1845 for 1930 hrs - 'Five Decades in the Circus - The High Wire Act with No Net '
Presented by Barry Tempest who was one of the leading aerial display pilots in the world, and has entertaining Airshow crowds for the last five decades.
Barry's air show career extended from 1958 until 2013 - some 55 years of 'fun and flying frolics', in the UK, Europe and the USA. In that period he had over 2,300 public air show performances in a wide variety of different aircraft. In 1963 he co-founded the 'Barnstormers Flying Circus' and subsequently flew with the Rothmans Aerobatic team.
Barry says "To enliven his talk, he will introduce one or more of his 'relations' who live in his wardrobe, who assisted him in the last 10 years of his crazy flying displays".
AirACES is an aviation talk society, providing its members with regular talks, given by experts in many different fields related to the world of aviation.
Monday 22nd October - 1845 for 1930 hrs
Two Talks - 'Canberra Target Towing' (in the firing line of Royal Navy gunners and Army missile operators) and 'Astor' – (Airborne Stand Off Radar system)
Presented by Sqn Ldr Joe Marsden RAF (Retd.)
Sqn Ldr Joe Marsden will be giving two (shorter) presentations this evening - the first about Canberra Target Towing, which provided targets for Ground to Air firing of guns and missiles. The second will be entitled 'ASTOR', which will explain how the Airborne Stand Off Radar System and its ground stations help to control the battlefield, together with explaining the latest assets in use with the British military.
Joe Marsden was in the RAF for 29 years and his RAF career was only cut short when he had a neck injury. During this time he was posted to RAF Scampton, with Vulcan aircraft, served with 617 (Dambuster) Squadron, flew Canberra aircraft and served three tours of the Falklands. In his latter time with the RAF Joe was an Engagement Controller on Bloodhound Surface to Air Missiles and finally an air-to-air Fighter Controller.
AirACES is an aviation talk society, providing its members with regular talks, given by experts in many different fields related to the world of aviation. The talks are held at the Chichester Park Hotel, Westhampnett Road, Chichester, 6.45 for 7.30 pm. Members £3, visitors £5 and under 16s FREE. No pre-booking. For further information about AirACES, please see www.airaces.org.uk or call David Batcock on 01243 823007