Arun & Chichester (Air) Enthusiasts Society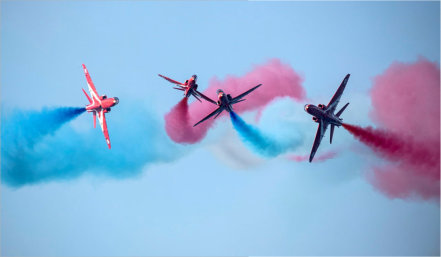 Two Special 10th Anniversary Talks in January – Advance Booking only
Monday 9th January - 1900 for 1930
'An Evening With the Red Arrows presented by Flt Lt Stuart Roberts, 'Red 2'
The Red Arrows, the Royal Air Force Aerobatic Display Team, is known across the world for its thrilling and spectacular displays. This January, Arun & Chichester Air Enthusiasts Society is delighted to welcome one of the team's pilots to Chichester to present a special Talk evening about the famous Team, its aircraft and the personnel that keep them flying.
Monday 23rd January - 1900 for 1930
'About Military WW1 & WW2 medals' and 'A Day on the BBC Antiques Roadshow' presented by Mr. Mark Smith, BBC Antiques Roadshow 'Medals & Militaria' expert
The BBC TV 'Antiques Roadshow' medals presenter will be hosting an interactive presentation. He will discuss his father's wartime RAF service, his own aviation stories and anecdotes and is also asking attendees to bring along their relatives' WW1 and WW2 medals. He will select a few and explain a little about them. In the second half, Mark will discuss 'A Day at the BBC Antiques Roadshow' and its filming.
Monday 27th February - 1900 for 1930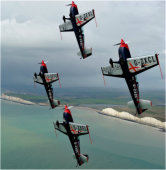 'Formation Display Pilot' presented by Mr Andy Evans, Team Leader, The Blades Aerobatic Team. Andy will offer Air Aces members an exceptional insight into the life of a formation display pilot and the requirements and demands of the profession. As one of the most experienced display pilots in the world, with almost 2,700 hours in the Extra 300 alone, he has accumulated almost 8,500 flying hours. With all of this experience, Andy is also a Qualified Flying Instructor so well positioned to be mentoring and commanding the team when he took over as Team Leader in 2018, as well as managing the team's flying itinerary.
Andy began his flying career in 1984 when he was awarded an RAF flying scholarship. He joined the RAF in 1985 as a member of Yorkshire Universities Air Squadron and following completion of officer training at Cranwell, Andy was selected to conduct his flying training in Texas, being awarded his wings in 1989. A former front-line Jaguar pilot, Andy flew on operations over the Balkans and spent three years as the Air Show Advisor to the Royal Saudi Air Force National Aerobatic Team. Andy is also a former Red Arrows pilot, flying with the Team between 1997 and 2000 and after his third year, he was the first Red Arrows pilot to stay on and become Team Manager, flying as Red 10.
AirACES is an aviation talk society, held at the Chichester Park Hotel, Westhampnett Road, Chichester. Tickets for the special January talks are £8 each – to book, or to become a member, please email treasurer.airaces@gmail.com Pre-booking for these two talks is essential, no admission without pre-booking. Doors open at 6.45. For further information please see: www.airaces.org.uk,