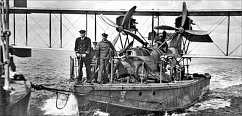 Monday 25th November - 1845 for 1930 - 'The Seaplane Lighter H21- arguably the World's first 'purpose built' Aircraft Carrying Vessel' presented by – David Morris
David Morris, curator of the Royal Navy Fleet Air Arm Museum at Yeovilton, returns to Air ACES to give another of his superb presentations.
Born from the Royal Navy's desire and determination to take and operate aircraft effectively at sea, the 'Thornycroft Seaplane Lighter' is part of the rapid cycle of events and engineering achievements which took place during WW1. It culminated in the aircraft carrier as we know it today.
In 2018 we saw the launch of the largest ship the British Royal Navy has ever commissioned, the Aircraft Carrier - Queen Elizabeth. Also 2018 was the centenary year of the first use of a seaplane lighter to operate a single aircraft at sea for military purposes.
Dave Morris's presentation will take a look at the development of these craft, along with the conservation programme being undertaken on this last remaining craft of its type at the Fleet Air Arm Museum. This presentation will be very much picture led, with many previously unpublished images.
AirACES is an aviation talk society, providing its members with regular talks, given by experts in many different fields related to the world of aviation.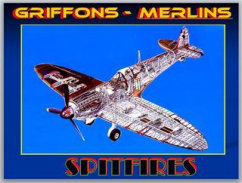 Monday 9th December -1845 for 1930
'Griffons – Merlins and Spitfires' Presented by Kevin Patience who is one of the leading speakers in the South of England. He will be coming from his home in Wimborne, Dorset, to talk about the iconic WW2 fighter, the Supermarine Spitfire, together with its Rolls Royce Merlin engine.
Kevin will also explain about his discovery and identification of three Spitfires, off the coast of Malta. One of these is on display at the Malta War Museum, and another is now flying again.
A highlight of the evening will be the opportunity to see some rare 1942 colour film of Spitfires, in and around Malta. There will be a 'short surprise' for all attendees in the second half.
The talks are held at the Chichester Park Hotel, Westhampnett Road, Chichester, 6.45 for 7.30 pm. Members £3, visitors £5 and under 16s FREE. No pre-booking
For further information about AirACES, please see www.airaces.org.uk or call David Batcock on 01243 823007