Monday 21st May - 1845 for 1930 hrs
'The RAF Today and in the Future'
Presented by the RAF Presentation Team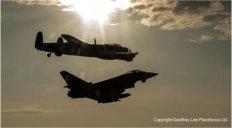 With their stunning new presentation, celebrating 100 years since the formation of the Royal Air Force, Air Aces is thrilled to welcome the RAF Presentation team back to Chichester.
The team, all of whom have operational experience, will present a blend of personal narratives with highly engaging and dramatic footage telling the story of how the RAF contributes to the delivery of Air and Space Power.
As well as promising to be a fascinating presentation, this evening will offer an exceptional chance to meet with members of the team and discuss the challenges and opportunities that life in the RAF presents.
Monday 18th June - 1845 for 1930 hrs
'The History of Modern Ballooning' - Presented by Don Cameron
Don Cameron is the leading expert in the world of Ballooning. Most of the balloons that you see in the sky have been designed and made by his company, Cameron Balloons, who have their offices and workshops near Bristol.
In his talk, Don will be explaining how ballooning had almost disappeared until the re-invention of modern hot-air ballooning, around 1960. Since that time, there has been a vast expansion of activity and a flowering of innovation. He will describe some of these developments, including balloons which have flown around the world, achieved records in the stratosphere, or simply decorated the skies with eye-catching shapes.
This fascinating talk promises many superb photographs, as well as being highly entertaining and informative.
AirACES is an aviation talk society, providing its members with regular talks, given by experts in many different fields related to the world of aviation.
The talks are held at the Chichester Park Hotel, Westhampnett Road, Chichester, 6.45 for 7.30 pm. Members £3, visitors £5 and under 16s FREE. No pre-booking
For further information about AirACES, please see www.airaces.org.uk, or call David Batcock on 01243 823007