HERE COMES SUMMER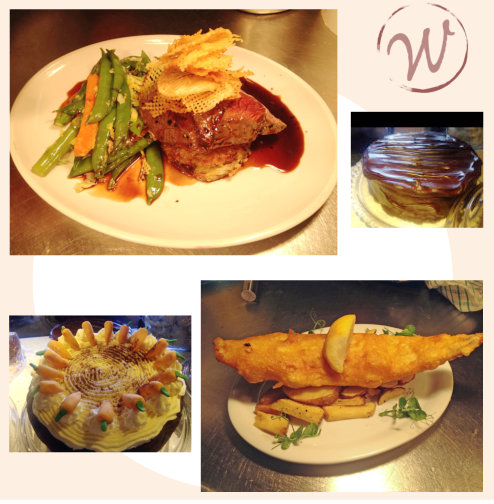 Woodmancote is a sleepy hamlet set in the beautiful West Sussex border countryside about 2 miles north-east of Emsworth. The Woodmancote is a busy 150 seater Restaurant and Free House with cosy and intimate interiors. They offer a very comprehensive menu, wide choice of quality wines, spirits and beers and have just launched their Summer Menu - it has 11 starters, 14 mains plus grills and salads – what a choice! Plenty of parking with outside seating and easy access for disabled as well.
I visited with my partner one Monday lunchtime and the restaurant was busy – excellent sign of good food I thought. I ordered crispy whitebait served with hunks of fresh bread and tartar sauce and my partner choose Crab Cakes served with a chilli dip – both delicious and well cooked. For the main course we selected Seafood Linguine with prawns, salmon and haddock in a tomato and herb sauce with garlic ciabatta and Pan Fried Venison served with sauté potatoes, seasonal vegetables with a red wine jus. All our food was extremely fresh and tasty – the portions were generous as well. We chose their wine of the month – Gouleyant – a deeply fragrant wine from South West France. The menu offers a range of vegetarian/vegan meals as well and the manager Terry said, "if you have any dietary requests we are happy to advise and help".
A comprehensive range of sweets was on the menu – we chose a selection of ice creams and finished with freshly made coffee. What a lovely meal matched by the summery conditions outside. It is difficult to imagine that this idyllic rural location is only 5 miles from Havant - I would thoroughly recommend you visit this establishment and please mention you read this article in Postcode Newspapers.