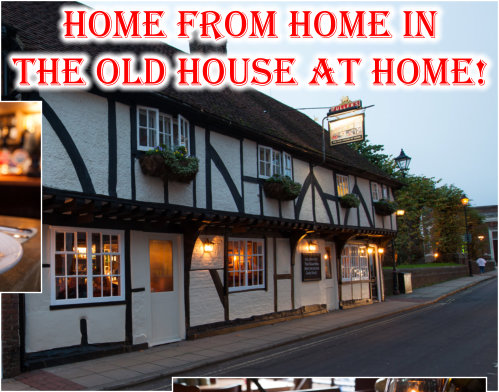 This charming timbered Inn nestled adjacent to St Faith's Church in the centre of Havant has recently undergone a complete refurbishment under a new manager and chef. We visited this Inn one cold winter's evening and were greeted by a roaring log fire and a warm smile from the bar staff. We elected to eat in the newly created private dining area which can also cater for private parties as well. This is a charming pub to visit if only to enjoy the beamed interiors and has a full range of Fullers beers and wines.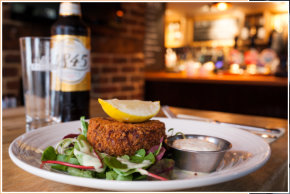 The menu comprises five starters, three sharing platters and nine large plates 'mains' plus five 'puddings' and a specials board as well. Such a wide choice!
Smoked haddock fishcake, smoked salmon and a "sharer platter" of artisan breads and olives were selected. The main courses were indeed large - pan fried Calves Liver, 8oz Hampshire Rump Steak, Chicken Schnitzel and Chalcroft Farm Burger were ordered and heartily consumed. The food was well cooked and just right for a winters evening. I must admit that there was not much room left for the 'puddings' so we shared a mixture of ice creams which were also delicious.
Tracey and her team must be congratulated for their hospitality and quality of food – this has to be the best Gastro pub in Havant and well worth a visit