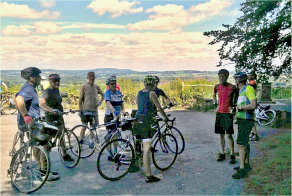 Ride 100 miles in 12 hours or less. That was the challenge from CTC to veterans in 1928, and it has been repeated every three years
Their aim is to provide a fun ride where over 50s (and anyone else who wants to join in) take lovely, quiet routes through pleasant countryside that is moderately challenging and includes coffee, lunch and tea stops. Alternatively a shorter ride of 100 Kilometres is allowed within the rules.
John Rosbottom organised the local tri-vets rides again for 2019.
The 100 km and 100 mile triennial veterans' rides started together from the Spring centre in Havant at 9am and were successfully completed by all participants with 12 riders completing the 100 km and a further 4 riders completing another 60 km to make 100 miles. The first loop was 100 km from Havant to Havant following a delightful route along the South Coast Cycleway, before riding into Bosham and around Bosham Hoe to Fishbourne from where the route joined the Centurion Way from Chichester, to elevenses at West Dean Post Office. We followed quiet lanes and cycle tracks in order to avoid the busy traffic around the Goodwood Festival of Speed which proved to be a successful strategy, thanks to the cycling infrastructure in West Sussex.
The ride continued along the valley from Singleton, through East Dean and over Duncton Hill to a very good pub lunch at Badgers in Coultershaw Bridge, with a sub-group enjoying a picnic lunch at Graffham, supplemented by the Village Stores. We then followed the line of the South Downs in lovely sunshine along quiet country lanes until we recrossed the Downs using the Butser cutting Cycleway. The 100 km ride finished at 4:45 pm to a great welcome back at The Spring in Havant with some really tasty, perfectly cooked food.
By 5:30 pm the 100 mile group, suitably refuelled, set off for a further 60 km in Hampshire lanes and cycle paths, calling at Titchfield Co-op for snacks then following cycle tracks along the seafront at Lee and Alverstoke, then more Cycleways North to Fareham; the cycling infrastructure in Gosport is a model from which the whole nation can learn. The 100 miles were completed at 8 pm following a day of perfect riding weather, excellent food to keep us going and no mechanical incidents to slow us down.
Our route showed how riding a bike can open up a much bigger network of roads and tracks than is available for motor traffic, and several riders commented on how many miles we could ride on completely traffic free routes through some delightful countryside.
Our thanks to John for organising this ride, and for this article.
Mike Skiffins Portsmouth CTC