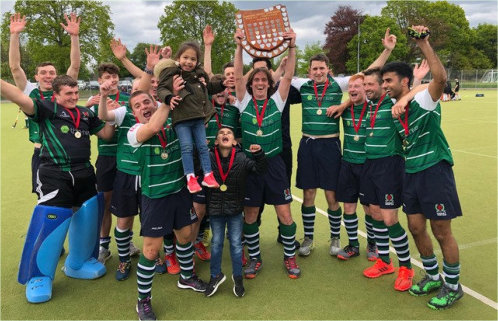 Havant Hockey Club finished a fine season in style as they completed a treble on Hampshire finals day to become the most successful club in the history of the competition.
Twice Havant came from behind as they beat Fareham 3-2 in the Hampshire Cup to win the prestigious tournament for the fifth time in six years.
It follows a strong season for Havant which saw them crowed National League Conference West champions before narrowly missing out on promotion through the playoffs.
Although the league champions started as favourites, Fareham took the lead as former Havant midfielder Adam Bloomfield deflected a shot into the roof of the net.
Charlie Stubbings equalised before the half-time, neatly powering home a reverse shot from a tight angle.
Again, Fareham took the lead in the second half with Jamie Rawlings converting a penalty corner. Yet Havant struck back in spectacular style as debutant Colin Simmonds, who had been call-up from the second team for the final, scored an overhead slam.
With both teams pushing for the win, it was Havant that struck late to seal the trophy when Matt Cotrell set up Mike Deller-Merricks to flick the ball into the Fareham goal past the last defender on the line.
On a bank holiday Monday success at the Edge Sports Centre in Haslemere, Havant's Under-18s defeated Bournemouth 3-2, meanwhile completing the hat-trick of wins for the club Havant's third team upset Fareham's second team 6-4 to win the Open League Cup.
Havant Hockey Club Chairman Chris Pickett said: "I was immensely proud of our success on Hampshire Day, as it demonstrated the playing strength within the men's section, with a junior, midstream and our elite 1st XI winning their respective cups."