Football
England
In the September round of qualifying games for the 2016 European Cup, England maintained their 100% record by beating San Marino and Switzerland. In the game against the useful Swiss team at Wembley Stadium, Harry Kane of Tottenham Hotspur was introduced as a substitute early in the second half. That allowed Wayne Rooney to play alongside Raheem Sterling and the whole team looked more comfortable and purposeful. Moving the ball quicker soon made chances and Rooney got the goal to take the England all-time scoring record from Bobby Charlton. Harry Kane added England's second for and demonstrated his international credentials. Having qualified for the finals, experimental teams were fielded in the final two games against Estonia and Lithuania in October, with Barkley and Vardy in particular showing their international potential.
Pompey
Having watched Pompey in pre-season at Westleigh Park against Division 1 Coventry City, I was immediately impressed with Conor Chaplin. He showed his prowess in the opposition penalty the box and his ability to put the ball in the net. With Matt Tubbs as well Pompey have two instinctive goal scorers who can change games. Overall Pompey are looking strong and purposeful with goals coming from many different players. All surely making Pompey worthy of a bet for promotion. Perhaps as Division 2 Champions.
Havant & Waterlooville FC
The Vanarama National League South is taking shape. After twelve games and languishing in the bottom half with just three wins Hawks, out of character, have been shipping goals. The contenders at the top already begin to look a little distant. The Westleigh Park team with several new signings and injuries to key players, are struggling to find consistency in their lineup. See in this edition of Postcode, reporter Simon Payne's fuller analysis of Hawk's season to date.
Havant Rugby Club
Havant RC has had mixed fortunes at the start of its London 1 South Division campaign. The team's home form with one exception has been excellent. Games at Hooks Lane against Dover in August and Twickenham in September and Chobham in October were won in some style. On the road however, games against both newly promoted Medway and Brighton have been a different story. Both lost and lost badly. The stark inconsistencies between home and away performances are a cause for concern. They need to be addressed quickly or the Club's hopes and aspirations for the season may be undermined.
Golf
Top young Waterlooville golfer, Scott Gregory aged 21, an England amateur international, based at Corhampton Golf Club, was selected to play in the England team in the 2015 Spirit International Amateur Championship. Held in the USA at Whispering Pines Golf Club in Trinity, Texas, from 9-15 October, the Championship features the world's best amateur men and amateur women golfers from 20 countries and six continents. They represent their country in team and individual competitions for team and individual gold, silver and bronze medals. Established in 2001, the Spirit International Amateur Championship is a biennial event. It alternates tournament years with the World Amateur Team Championships. England has won the International Amateur Championship Team Gold medal twice, back-to-back in 2005 and 2007.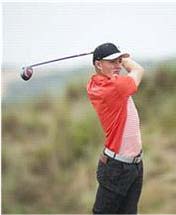 Scott (pictured left) talking about the future, said "I have been also selected to play for the England 'A' Squad for 2015. This involves matches and coaching. I am continuing to work on my game and I aim to go to qualifying school next year to try to break into the professional game."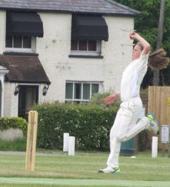 Cricket
Talented 11 year old Hampshire County Cricket Club's Poppy-Jay Watkins (see report in Postcode Publications July August 2015) has this month been selected for the U 13 Development Group. This keeps Poppy Jay on the pathway to the England Women's Development Programme U 15 Group. On hearing confirmation of her selection Poppy-Jay said "I have been very nervous waiting for this news. It could not be better. I am so thrilled to be given the chance to progress"