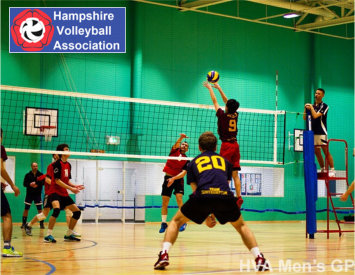 The fourth of six Hampshire Volleyball Association Grand Prix competitions took place at Bay House School, Gosport. Travelling across the Channel, Guernsey did not allow storms to interfere with their travel plans, as they managed to fly over on Saturday evening.
Six teams braved the elements to compete alongside Guernsey; both South Hants Men and Eagles teams, Southampton University, Purbrook Park and Portsmouth based Blues.
Highlights included a first win of the season for the Blues with a tight three set game against Guernsey. They narrowly lost the opening set 24-26, before coming back to take the second 25-19. The decider was also tight, but Blues held on to take it 15-12.
Southampton University continued their winning streak, and went into the last match of the day vs South Hants men unbeaten. Also unbeaten were local rivals South Hants Men were not to be denied, and took a comfortable win 25-19, 25-19. Their match against Purbrook Park Old Boys was an extreme example with South Hants losing the first set 20-25. They then drove Purbrook all the way in the second set, with neither side able to pull ahead. Eventually South Hants took the set 30-28. Purbrook then had nothing left to give, with South Hants taking the decider 15-5.
South Hants men came out on top sealing all three victories and now climb into sixth place in the League, although they have three games In hand over leaders Southampton University.