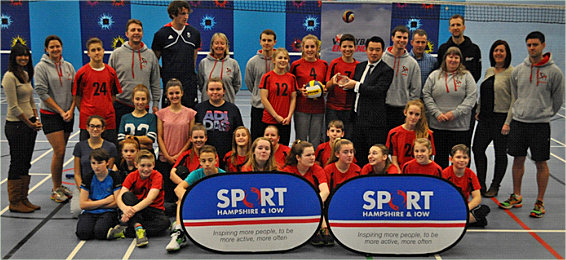 South Hants Volleyball Club based in the sports hall at Horndean Technology College in Barton Cross, Waterlooville, PO8 9PQ was named in November as the best community satellite club in the South East. The award was made to recognise of the Club's ability to get young people to take up the sport of volleyball.
The Club has brought junior Volleyball into the heart of Havant. Sessions for young people are held every Saturday from 11.00 – 13.00 and are for 10 – 18 year old boys and girls. Whether they have played volleyball before does not matter.
South Hants Volleyball Club is registered with Volleyball England, the sports National governing body, and meets all the requirements for running a junior club including fully qualified coaches.
The Club is one of more than 6,900 community satellite clubs across England. Community satellite clubs receive National Lottery funding to provide a range of sports to young people who otherwise may not be regularly active or lack the confidence to join a sports club. The National Lottery funding has helped get almost 300,000 young people in England actively playing sports since it became available in 2012. Some 23 young people regularly attend the South Hants Volleyball Club's sessions. The Club has a team in the local junior volleyball league.
After the award was presented by Havant MP Alan Mak, the Sport England Director for Community Sport, Mike Diaper, told Postcode: "I'm delighted that South Hants Volleyball Club has won this regional award. They've created a formidable pathway to help get young people in their community more involved in sport."
Priya Samuel, Satellite Clubs Development Manager, Hampshire & IOW, said "We are proud to drive forward new partnerships with Volleyball England, Havant BC and the local education sector to create safe, quality and fun community sports clubs for our young residents of Hampshire. This award illustrates the commitment from dedicated club volunteers giving back to the local community."
Sporting Champion GB Volleyball player Chris Gregory was at the presentation. He delivered a coaching session to the young players and was able to give advice and tips to the Club. One of the Club's young females participating in the coaching session said "It's cool to train and play with friends and see professional players who represent Team GB. The clubs coaches always make Volleyball at the club fun'
Speaking after the presentation Beverley Cooper, the Club's Development Officer said, "We are very proud to have developed to the point where we have won a prestigious award. It is so special for our club. The presentation went really well thank you. It was a great celebration of our progress so far and an acknowledgement of the success we have achieved in a short space of time."
Beverley went on to say "We are in the close season at this time. The junior league only runs in the summer months so at the moment it is mostly practice, practice, practice! We are delighted now to have three of our players attending South East Regional Junior training once a month in Surrey. They are very much enjoying it. It is helping to develop their skills yet further and they bring these back to the club to raise our own standards too. We are also running a 'Young Referees Course' over the coming weeks. Eight of our juniors are involved in that. It is a great opportunity for them to learn more about the game, gain a Volleyball England recognised qualification and to begin to understand the game from a referees perspective.
"As usual we are looking for more juniors. Boys and girls aged 10 years+ are very welcome. We are at Horndean Technology College every Saturday between 1100 -1300 hours. The first six sessions are free. Then it's £2 per session."