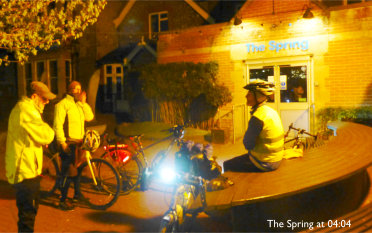 Once the absolute restrictions on exercising alone were eased, cyclists were allowed to ride in groups of up to six.
Portsmouth CTC secretary Andy Henderson was able to use the club website to alert members to rides chosen and arranged by approved 'leaders', and these rides started to 'pop up' very rapidly, such was the pent-up desire to ride in company of like minded cyclists.
The limit on numbers gave an unexpected benefit. Each leader chose the destination and opened an invitation for riders to register to join that ride. This meant that the riders would probably be fairly evenly matched in ability, even if they'd got a bit 'rusty' in the lockdown.
In addition it gave us the opportunity to start in different locations and avoided everyone having to cycle to central Havant before starting.
So, we have had Pop Up rides going round Portsmouth and back, Round Hayling, a couple to Winchester, flattish rides to Bosham and other coastal destinations, and hilly rides as well.
Starting points have included Denmead, Fareham, Cosham, Rowlands Castle and Waterlooville.
It's not ' All about the bike' as they say, so small groups can include special interests.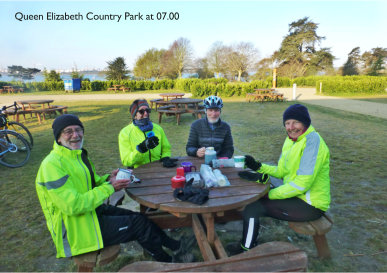 Tricia Farnham led several rides to embrace the natural beauty of Spring. A couple of wild flower rides to Bosham, starting in Bedhampton were followed a week or two later by a bluebell ride from Bedhampton to West Stoke. Pauses were made en route to admire the flowers.
A mixture of long, hard hilly rides for those who enjoy 'stretching' themselves and more gentle and interesting rides, with much else in between.
Perhaps the most unusual was a ride to see the Sun rise at Netley Abbey, led by Phil Beed and starting in Havant at 4.00 a.m. - yes, 4.00 in the morning! They took a Primus and made a brew while they watched the Sunrise, then went on to Gosport for a cafe breakfast, still in the open air of course.
Usually club rides have a destination that includes a coffee stop or a lunch stop, but whilst that is convenient, in these times many of our favourite refreshment stops have been closed. However if we are forced to make our own provision, (go self catering), the advantage is that we have a wider range of destinations and this has shown in the detail of some of the rides.
In total, 38 rides 'popped up' during April showing that thinking 'outside the box' meant that restrictions imposed because of the pandemic could be turned to an advantage. Even though it was never 'normal' it has been a lot of fun.