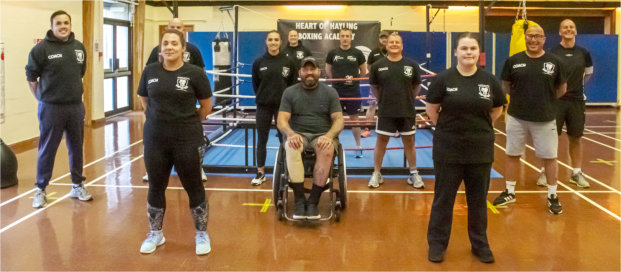 So great has been the increased demand once the return of the Boxing Academy was put out on social media that additional sessions have been added for the autumn season which are well under way.
Following the success of the two literacy/ boxing summer schools, all the volunteer boxing coaches were put through their paces in refresher training by former Royal Navy veteran Knox White – seen centre in the wheelchair.  Knoxy, a three times member of the Navy Field Gun crew who competed at Earls Court in the Royal Tournament in what has been described as the toughest team sport in the world,  continues to attend at Hayling as their principal mentor and senior coach, while also being a support coach to England Boxing.
Four  coaches including Verity March,  proudly clutching their certificates,  awarded for completing six modular courses with the National Autistic Society and two qualifications from Ofqual regulated Cache training charity,  in understanding children and young people's metal health.
These qualifications were also achieved by coaches Alan Dyde and Dawn Pierce with funding by Hampshire County Council, to ensure that children with very special needs attending the boxing are well catered for.
Meanwhile Verity's partner Scott, both a coach and Hayling fire-fighter, tried out the new boxing ring and its punch bag.
Following a successful trial run in September the new look Heart of Hayling Boxing Academy is back in session every Wednesday throughout the school term at the Hayling Community Centre, Station Road and is open to any youngsters from any background, whether able bodied or with a disability.
Full Covid -19 precautions will be in place with separate entrance and exit from the main hall and each session with limited numbers of boxers in the hall.
Please pre-book the session you wish to attend book using the Community Centre web site or the Facebook page of Heart of Hayling Boxing Academy.
1600 - 1645 Senior boys and girls for those age 13 to 17 yrs or those who have gained the GB National Bronze Boxing Award.
1700 -1745 Boys and girls 5 to 12 yrs
1800 -1845 Boys and girls 5 to 12 yrs
1900 -1945 Senior women only 16+
We encourage any ladies to attend and there is no need to book, just come along to engage in fitness training, have fun while learning the basic skills of none contact boxing and if you need to, its a great way to lose weight.
Subject to obtaining the necessary extra funding an additional Sunday session will be held.
1430hrs till 1600hrs Senior young men and women 16+ years conditioned sparring and semi-contact for those who have gained the GB National Bronze Boxing Award and or who have previous experience and prior approval.  [Carded boxer with medicals may take part in heavy sparing].
Any questions or queries please contact the academy administrator and treasurer Wendy Coates on 023 9246 4391 wendylcoates@btinternet.com or heartofhayling@gmail.com
By:
Mark Coates, Heart of Hayling Boxing Academy