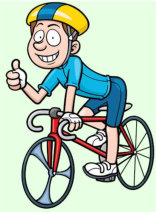 The ultimate guide to cycling in the borough of Havant – which includes a map of all cycle routes – is now available!
The new Cycle Havant leaflet, produced by Havant Borough Council, is available for free from locations across the borough including local libraries, cycle shops, Havant and South Downs College and the Public Service Plaza in Havant. It is also available online from www.havant.gov.uk/cycle.
The fold-out leaflet provides essential, easy to understand cycling information, that is useful for people of all ages and abilities who are planning to go for a ride in the borough.
At the centre of the leaflet is a unique cycle map of the borough. The map highlights areas where it's best to cycle – both on-road and off-road – as well as National Cycle Network routes and key spots for cyclists to avoid such as difficult junctions, barriers or steps. In addition, the leaflet contains a guide to the local areas of Havant, Emsworth, Waterlooville and Hayling Island; a list of useful cycling websites; an in-depth cycle map of both Havant and Waterlooville; BMX, skate park and cycle shop locations; and much more.