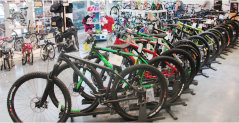 Havant has a new specialist cycle store, opened in June, at Solent Business Park.
Evans Cycles created an Event for the occasion with a children's Bouncy castle outside, in the car park, but this didn't seem to be actively used at the time I visited
In essence the store is a large warehouse type concrete shell fitted out as a retail unit and is conveniently situated near Tesco, and just opposite Marks and Spencer.
Inside the store has literally hundreds of bicycles of many different kinds, although I don't remember seeing any tandems so I can't say 'all types'.
Probably the entire left hand side of the store is given over to complete bikes, and the right side to display stands for accessories and parts, panniers, saddle bags etc.
At the rear of the right side is an open plan workshop which they reckon can deal with everything from a puncture to a full rebuild.
On the opening day there was a good crowd of people, but that meant some obstruction at times where visitors were gathered round the display of cycle computers, Garmins etc., probaby the most popular display of all.
Interestingly,although the store has plenty of parking for cars, there are no cycle racks outside so there were bicycles chained insecurely to bollards. Almost diagonally opposite is Halfords which only has cycling on the upper floor, but has bike racks outside.
Inside the store, however, they had a portable, two hoop, Sheffield style rack, and there is a sign on the window that there is a rack inside for the convenience of customers wishing to bring their bike in whilst they are shopping.
I spoke to several customers who were waiting outside holding bikes because there was nowhere secure to leave them whilst their partners were inside 'casing' the joint.
In summary, Evans is well known to cyclists, particularly vintage cyclists as their first shop F.W Evans was opened in 1921, and received an award from CTC for their improvements in bicycle design and construction in 1925.
They claim that this 'has to be one of the most impressive bike shops in the UK', and it is certainly a welcome addition to cycling provision in the Havant area.
By
Mike Skiffins - Portsmouth CTC - http:/www.portsmouthctc.org.uk