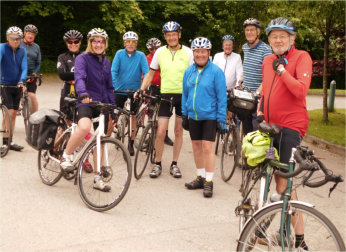 A new club has been formed to help people in the Waterlooville community to get more experience of cycling on quiet roads as far as possible in their own area.
 The members will meet on Monday evenings in June and July at one of several start points in and around Waterlooville.
 Experienced Ride Leaders will encourage riders to explore easily cycled routes in the area, and newcomers will get the opportunity to meet other cyclists in groups of up to a dozen, each ride will last about an hour and a half, will be less than twenty miles, and avoid any steep hills.
 Here on the edge of the South Downs there is a lot of beautiful scenery to be discovered, riding at a pace that allows everyone to see and enjoy their surroundings.
 Everyone will be welcome:
Inexperience doesn't matter, if you haven't ridden for a long time or only just started, you'll be just as welcome.
Children under sixteen are welcome as long as they are accompanied by a parent or authorised adult. Sixteen to eighteen year olds will need to have written authority from their parents.
It doesn't matter what type of bike you ride as long as it is safe to ride, nor what sort of clothes you wear.
 On a bike, the scenery is constantly changing – not like in a gym!
 Twenty miles may seem like a huge distance but as they ride more, all riders will find their confidence on the bike increases. Not only being able to handle the bike better, but feeling comfortable on the bike itself and also their position on the road and in traffic.
 Just think how many places you could get to on your bike in ten miles each way!
 There is no charge to go on any of these rides and Cycling UK provides insurance for each rider's first three rides as long as they have completed a short form to register. After three rides, however, if you want to continue you should join and get permanent cover and all the other benefits of membership.
 The all-important details:
 Start time : 6:45 pm for 7:00
 Rides are scheduled for 18th June, 25th June, 2nd and 9th July.
 The start point for each of these will be decided just before this paper is published so please contact Mike@portsmouthCTC.org.uk to find out where your meeting point will be and to let us know you want to come along.