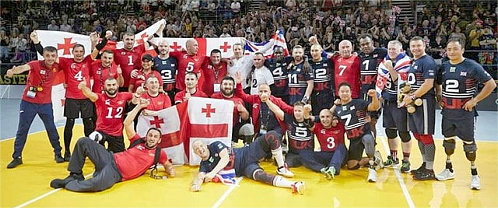 Having never played the game until 2010, he was introduced to the sport by a friend who was a double below the knee amputee. He enjoyed it so much that he joined Portsmouth Sitting Volleyball Club. Fast forward a few months and the club was in danger of folding and desperately needed a coach. Rich kindly stepped up, got himself qualified and then in 2014 was asked by Volleyball England to attend the inaugural Invictus Games in London to act as a step-in coach for those nations that did not have a designated sitting volleyball coach. The Games were the brainchild of HRH Prince Harry and were aimed at the wounded and sick members of the Armed Forces. Rich delivered some basic coaching to the Australian, New Zealand and Georgian teams. The Georgian team were so impressed by their makeshift leader that they then went onto ask for Rich's coaching on a more permanent basis for the rest of the tournament. Remarkably, under the expert guidance of their newly adopted coach, they managed to get to the semi finals narrowly missing out on Bronze - unbelievable when you consider they arrived in London never having played competitively before!
Rich was then asked to continue coaching the Georgian national team, often delivering training remotely using cyber coaching. Following an impressive Bronze medal in the 2nd Invictus games in Florida for the Georgian team, (again with most coaching done remotely using technology), in 2017 the team then went to Toronto and incredibly under the guidance and expertise of Rich, were unbeaten all week and went onto win Gold.
Following such an amazing success, Rich's talents were then diverted to home soil - he was invited to coach the UK sitting volleyball team in readiness for the 2018 Invictus Games in Sydney. In only 12 training sessions and a couple of friendlies, he managed to assemble a strong team that went onto win Silver (losing in the final to Georgia!)
Now Rich is continuing to work with the UK team, having just returned from the inaugural Invictus Uk Trials in Sheffield. He worked with over 100 players teaching them the fundamentals of the game in preparation for the next Games in The Hague, Holland in 2020.
During his rapid ascent to success, he has had the pleasure of meeting a whole variety of royalty and celebrities alike, including HRH Prince Harry and Meghan, the Obamas, Michael J Fox, Morgan Freeman and George Bush Jnr to name but a few. Rich says of his experiences "I do have to pinch myself sometimes when I think of all these exploits and the famous faces I have met along the way. All of this just because by chance I decided to try an unknown sport with a friend just nine years ago"
In his spare time he is also the South Hants Sitting Volleyball Club coach, where he has led the team to a variety of international competitions across Europe, as well as achieving Silver in two of the last three Sitting Volleyball Cup competitions held at the National Volleyball Centre in Kettering.
Rich is very keen to encourage anyone, able -bodied or otherwise, to take up a sitting volleyball challenge. There are a number of sessions already available in the area (visit www.hampshirevolleyball.org.uk for more information). However Rich is also very happy to go to deliver a session to any volleyball clubs in the area to demonstrate how much fun and rewarding this little-known sport can be. Please email him at hantssecretary@gmail.com to get in touch.