Cams Hill School, in Fareham recently played hosts to a nostalgic South Hants Volleyball Club's 10 year celebration event. Teams came from as far afield as Guernsey and Essex to join in the festivities over the weekend of 5/6 October.
Back in August 2009, a group of amputees representing 'Moving Forward', a user group of the Disablement Service Centre at St Mary's Hospital in Portsmouth, attended the Amputee Games (now LimbPower Games) at Stoke Mandeville Stadium, the home of the Paralympic movement. There, they took part in a suite of adapted sports, including archery, badminton, fencing, powerlifting and sitting volleyball. It was the latter that generated real enthusiasm amongst the group, so much so that on returning home they agreed that they wanted to continue playing the sport and therein the seeds were sown for the creation of Portsmouth Sitting Volleyball Club.
The club was established on 15th October 2009 and a month later, Dave Willoughby, a highly respected indoor coach stepped forward to coach the team, and only two months after that it was playing competitively in the Grand Prix series, the premier competition for sitting volleyball. Tragically, in July 2010 Dave passed away and a number of stand-in coaches took on the coaching role until Richard Osborne, hitherto a player at the club, agreed to become the permanent coach.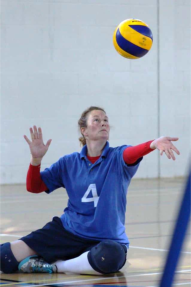 The club has achieved some notable successes: first and foremost – it has survived for 10 years! This is no mean feat given sitting volleyball is a minority sport within a minority sport but several players have represented the national GB teams; the club has ventured abroad to Holland and Denmark to play competitively; it has featured in the top 4 of clubs taking part in the Grand Prix in 2 out of last 4 years and currently sits 2nd in the latest series.
A number of players who formed the club back in 2009 remain members today, including Steve Bailey, Mike Stoneman and Charlotte Hughes and as the 10th anniversary approached it was decided there would be no better way to commemorate the landmark than to host a competition.
Teams representing Guernsey, Essex Pirates, Sitting Bucks, GB Women, South Hants NVL and South Hants SVC took part in competition over 2 days on 5th and 6th October 2019 at Cams Hills School near Fareham. Day 1 was a round robin format where every team played one another over timed matches lasting 25 minutes to decide the top 4 teams that would compete the next day for the cup and shield.
The contest was very keenly competed with some timed matches going to a 'golden point', where the teams were tied on points at the sound of the klaxon to end the match. This set up an evenly balanced second day where, again, fierce competition was played in a co-operative wat with the emphasis on fun, fair-play and mutual respect. In the shield competition, in its first competitive venture fledglings Medway Icon Warriors took the silver medal, while South Hants NVL took gold. In the race for the cup, Sitting Bucks took silver and South Hants 1 took gold. The competition was played in such a joyous, celebratory atmosphere which is great testament to the organisers: Mike Stoneman, Bev Cooper, Helen Mosely and Charlotte Hughes, not to mention the officials and volunteers who ensured everything ran smoothly and to time. Head Coach, of South Hants, Rich Osborne said of the two days " It was fantastic to see so many eager and willing players travelling considerable distances in some cases. There was a great mix of experience and novice enthusiasts in the room, and overall comradery and team spirit was great to watch. The fact that this minority sport has thrived for 10 years is so encouraging and we fully intend to still be here in another 10 year's time!"
Benefits of sitting volleyball are that the game is played in a smaller court with a lower net which means it is faster. This will strengthen indoor players' skills as they have to think and move quicker, communicate earlier and will hone technical skill and tactical awareness. If you are interested in developing a sitting section at your club or want to know more about delivering taster sessions, Richard Osborne is very happy to assist. You can contact him via email at: digdeep4sv@gmail.com.