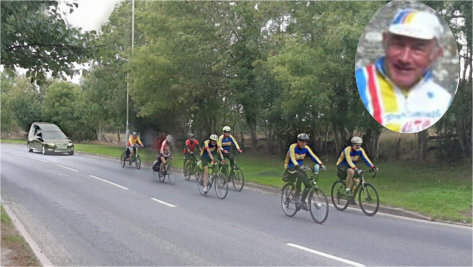 Michael Moore who has died on 27th August 2020, the day after his 84th birthday, was a former president of Portsmouth Cycle Touring Club and presenter of a long running Jazz programme on Angel Radio.
Michael was born in Louth, Lincolnshire, to Walter and Hily Moore, on 26th August 1936.
He was educated at Louth Grammar school and left aged 18 to go to Naval college in Hull to study Marine Radio.
In 1955 he joined the Merchant Navy and went to sea as second radio officer on the Isle of Guernsey
Michael met his wife Mary at a dance organised by the Mission to Seamen in Hull in 1959 and they married in 1961.
His job with P&O sparked a love of travel and he also developed a keen interest in photography.
When he left the Merchant Navy in 1974, aged 38 he went back to the University of Hull and took a three year English degree to become a freelance journalist.
In retirement Michael and Mary moved to Havant in 2001 and he took the opportunity to join the newly formed Angel Radio where he presented regular programmes on Jazz, another of his passions. His show, Swing Song has run for 18 years.
Throughout his life his love of cycling continued, from his boyhood explorations of Lincolnshire, including the hilly 'Wolds' on his heavyweight Raleigh and at 17 on a Sun Champion handed down from his sister who had just got married, throughout his worldwide travels and on into retirement where he joined Portsmouth CTC. Here he rode out most Wednesdays with the group, becoming an expert on the best tea rooms and cake shops in Hampshire and West Sussex.
Many thousands of miles ridden by Michael, but his first 100 mile run was to Salisbury in June 2009. The following year his many cycling friends elected him president.
It was, perhaps, inevitable that he would organise a tour of Lincolnshire to share the love of his home county with his fellow riders, and in 2019 he took a week's cycling trip to Croatia.
A service to celebrate the life of Michael was held at St. Faith's Church, Havant on 9th September 2020 conducted by the Rector, Canon Tom Kennar.
The coffin was carried into the church past a line of cyclists from his club, and afterwards members led the drive from the church to the Crematorium on Michael's final journey. Michael is survived by his wife, Mary, daughter Kate, and two granddaughters Rachel and Courtney