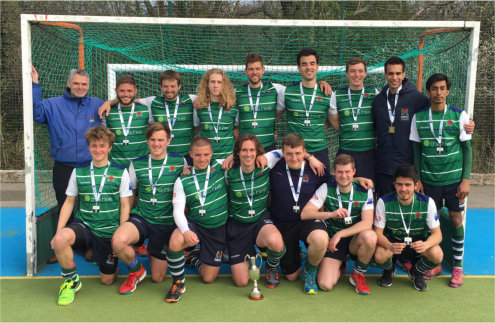 A crowd of 250 spectators saw Havant's Men win the West Conference league to earn themselves a place in the play offs for Premier League status.
Havant have enjoyed a fine campaign in their first season under head coach Raj Laly, securing the crown with a 3 – 1 victory over local rivals Chichester. Goals from Ethan Hoddle, Atiq Arshad and Christopher Smith ensured that the home crowd had plenty to celebrate.
Havant Hockey Club Chairman Chris Pickett said: "A huge amount of credit goes to the squad, but without any doubt Raj Laly, Warren Gilmour and Steve Lawson masterminded the tactics as they have done all season and they should be congratulated for a job well done."
With the West Conference now secured, Havant will go into a four team playoff with the other regional champions to fight for a place in the top division of English hockey.
Pickett added he hoped that the performances they have displayed all season would continue into the playoffs as Havant aim to make it the Premier Division for the first time in a decade. The club were crowned national champions three times in the early nineties.
He continued: "Resilience, commitment, good team moral and determination to succeed are qualities our men's 1st XI have displayed this season and they thoroughly deserve the position they find themselves in."
In a fine season for the club, the Men's 2s and Ladies 3As were also promoted. Meanwhile the Ladies 1s will look to bounce back next season after a hard season concluded with a bottom placed finish in the South Clubs' Women's Hockey League Division 2.