Dee Williams, a cyclist from Havant finds conversation with the 'Iron Men' on the Centurion Way between Chichester and West Dean to be a bit of a challenge.
The cycle club ride regularly every week, and often use the Centurion way, either full length, or for parts of it as their destination requires.
The Iron Men are a sculpture entitled Chichester Road Gang set alongside a representation of a Roman Amphitheatre on the site of an old gravel pit, and all on the site of what was once a junction between two Roman Roads about 2000 years ago.
The name of Centurion Way pays respect to this ancient Roman heritage although it is built along the line of the old Railway line from Chichester to Midhurst. This fell into disuse after the end of passenger traffic although it continued for a while carrying vegetables before final closure.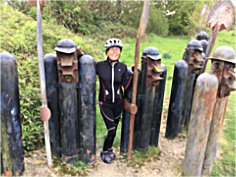 Only the section between Chichester and West Dean was converted for use by cyclists and pedestrians, but the rest of the route is being considered subject to land owners permissions and the protection of bats that have taken occupation of some of the tunnels.