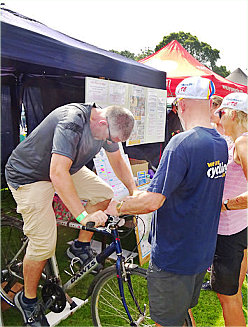 This was the first time that Portsmouth CTC has had a stall at the Emsworth Show which was a much bigger event than the previous ones on Hayling Island and previously at Havant (Havant Goes Greener) which altogether has spanned a 6 year period so far. So there was a little nervous tension as we set up and prepared the stall.
We needn't have worried, the show was very well organised and once the public had been let in at 10.30 all went very smoothly with large crowds and a steady stream of visitors to the stall. The Turbo Challenge, where riders pedal from a standing start for 1 minute to see how far they can travel, was very popular with a record number of at least 71 riders (many having repeat rides to try and better their score). Unusually the competition was dominated by the adult male riders with 32 rides on the 'big' bike. A fierce contest ensued with at first one young man getting over 1000 metres (equivalent to 60kph) followed by 5 more exceeding this milestone, with the eventual Leader Board top position standing at an amazing 1120 metres from Will Gibson. On all previous Turbo Challenges no one had exceeded the 1000 metre mark, so this was an all time record, and there was much speculation to explain this outstanding result. One theory was that the very warm sunny weather resulted in thinner air and that had lessened the braking effect of the turbo air brake. The other results were also impressive; 9 lady riders with the best, Clare, achieving a top distance of 860 meters; and on the child's bike we had 13 girls, the top being Daisy's excellent 626 meters, and 17 boys, with a very good top score of 680 meters from Daisy.
As usual the attraction of the Turbo Challenge draws in many cyclists and would-be cyclists so there were many chats about cycling in general and Portsmouth CTC in particular with the A6 flyer, created by Wilf, being handed out to all who showed an interest.
It was encouraging and very satisfying to see the significant level of interest shown in cycling by good proportion of the large crowd of Emsworth Show visitors. All in all a great day and well worth all the effort put in by the Portsmouth CTC team.
We look forward to repeating the experience at many more future Emsworth Shows.
If you would like to know more about us go to www.portsmouthctc.org.uk
By
Mike Skiffins and Robert Sebley