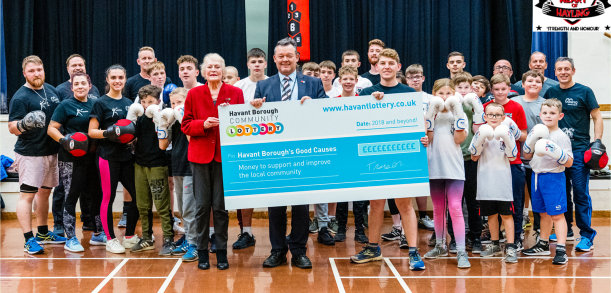 A great fillip to the Hayling Boxing Academy was provided when Councillor Leah Turner and senior director of Havant Borough Council Simon Jenkins came to a recent session to present the youngsters with a giant cheque for £799.
The money came courtesy of the Havant Borough Lottery and will be used in its entirety to provide essential additional kit for the young boxers.
Since its formation in January 2019 over 300 young boxers have passed through the academy learning the skills not only of none contact boxing, but many of the lessons of self discipline, self confidence, improved fitness and working as part of a team which will serve them well in later life.
As the Academy goes into its second year an additional 'quiet' session will be commenced for those youngsters who need a slightly slower paced quieter environment. This will initially be taken by Knox White, the former England boxing para-olympic coach, who in December 2019 trained the Heart of Hayling volunteer boxing coaches in inclusivity.
Weekly sessions are held during term time at the Hayling Community Centre, Station Road and are open to any youngsters from any background, whether able bodied or with a disability.
Three sessions will run on the same Wednesday evenings:
1630hrs till 1730hrs for 14 to 17 year olds
1730hrs till 1830hrs for 5 to 13 year olds
1830hrs till 1930hrs for ladies only
Sessions for teenagers 14 and upwards and adults are held at the Mengham Park sports centre and Fridays at 2000hrs.
To participate in the boxing sessions contact the academy administrator Wendy Coates on 023 9246 4391 wendylcoates@btinternet.com
None-contact boxing has been found to be a great way to reach those youngsters that are looking for a programme of physical activity not covered in other leisure time pursuits