Christian Burgess drops in on youngsters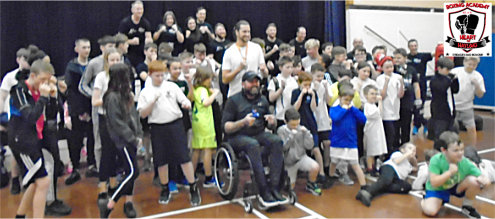 Portsmouth Football Club's centre half Christian Burgess gave up his day off to attend the Heart of Hayling Boxing Academy and stayed with the youngsters at all three of the Wednesday evening classes, much to the delight of both young boxers and their parents.
Having been instructed in the basics of none contact boxing by Jack Davies, the youngsters agreed with coach Knox White that Christian should be awarded an honourary bronze medal.
Sessions for teenagers 14 and upwards and adults are held at the Mengham Park sports centre and Fridays at 20:00hrs.
To participate in the boxing sessions contact the academy administrator Wendy Coates on 023 9246 4391 wendylcoates@btinternet.com
Non-contact boxing has been found to be a great way to reach those youngsters that are looking for a programme of physical activity not covered in other leisure time pursuits.