GB Awards presentation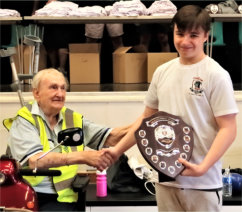 Seven months after its first session over 80 boxers aged from 5 years to 17 years were present on Wednesday 17th July at the Heart of Hayling Boxing Academy to receive what will be annual awards from a variety of special guests. These included Inspector Mark Lamper of Hampshire constabulary, Warrant Officer Steve Thorp submariner Royal Navy, John Potter founder of the original Hayling boxing club, Councillor Lea Turner, Neil Veck current president of Hayling Lions Club and Derek Knight of both the Lions Club International and former president Hayling Lions Club.

James Dobie above receiving the Knox White "Against all Odds" award from Lion Derek Knight. Rheily Parker receives the Brian Atkins award for "True Spirit" from Inspector Mark Lamper of Hampshire Constabulary right.

Councillor Lea Turner presented a cheque from the St Georges day event above, and presented young Max Stevens with the "Endeavour" award right.
Andy, Councillor Turner, John Potter and the coaches with the youngest group of boxers proudly display their new Heart of Hayling tee shirts again kindly donated by the Lions Club of Hayling. (photo 5)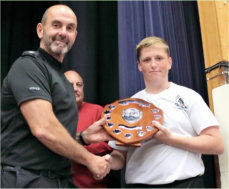 The awards ceremony marked the last boxing sessions for the first half of 2019 with the weekly sessions recommencing on 4th September at the Hayling Community Centre, Station Road and are open to any youngsters from any background, whether able bodied or with a disability.
Three sessions will run on the same Wednesday evenings for 14 to 17 year olds from16.30 till 17.30, 17.30 till 18.30 for 5 to 13 year olds, and 18.30 till 19.30 for ladies only.
The sessions for teenagers 14 and upwards and adults will continue throughout the summer at the Mengham Park sports centre on Fridays at 20.00.
To participate in the boxing sessions contact the academy administrator Wendy Coates on 023 9246 4391 wendylcoates@btinternet.com
None-contact boxing is a great way to reach those youngsters who are looking for a programme of physical activity not covered in other leisure time pursuits.