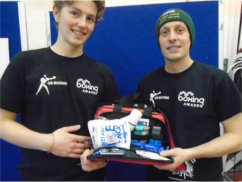 Hayling Community first responders Harry Broughton and Paul Nelhams who are also volunteer boxing coaches with the Heart of Hayling Boxing Academy, are seen here with a specialised first aid kit donated by the Hayling First Responders to the Academy. The kit primarily assists with strains and sprains which can occasionally occur during the none contact boxing training and having coaches Paul and Harry available ensures expert first aid is at hand.
Youngsters in one of the three hour long classes held every Wednesday are seen working out with skipping lines recently donated by the Hampshire police with Hayling PC's Elliot and Stuart who are in the back line along with Chief Inspector Alex Reading who joined the group in exercise.
From age five upwards the boxing programme teaches the basics of the sport along with key skills such as team work, problem solving, research, discussion and social skills.
The academy works within the GB ABA structure to gain recognised achievements, give awards, raise aspirations and help individuals to gain mutual respect as some youngsters recognise the art of boxing when they do not recognise other community aspects.
None contact boxing has been found to be a great way to reach those youngsters that are looking for a programme of physical activity not covered in other leisure time pursuits. Although a fee of £2 per session is requested no boxer is turned away if they cannot afford the cost.
Sessions are being held weekly at the Hayling Community Centre, Station Road and are open to any youngsters from any background, whether able bodied or with a disability.
Three sessions will run on the same Wednesday evenings:
16:30 - 17:00 for 14 to 17 year olds
17:30 - 18:30 for 5 to 13 year olds
18:30 - 19:30 for ladies only
Sessions for teenagers and adults are also being held at the Mengham Park sports centre on Wednesdays and Fridays at 20:00.
To participate in the boxing sessions contact the academy administrator Wendy Coates on 02392 – 464391 wendylcoates@btinternet.com