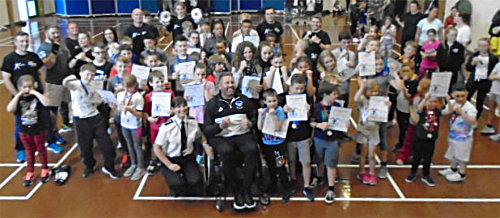 Following  gruelling training sessions held over a number of months, over 60 boxers who attend the Heart of Hayling Boxing Academy aged from 5 - 17 years passed their tests to be awarded either Preliminary or Standard medals and certificates under the GB National Boxing Awards Scheme on Wednesday 12th June.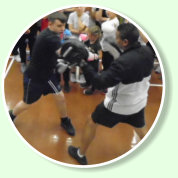 Knox White Hayling Boxing academy  mentor for Heart of Portsmouth  Boxing Academy and Clare Jenkins Chief Inspector Hampshire constabulary with some of the successful boxers after having been presented with their awards by Clare, Bruce Gordon Station Manager Hampshire Fire & Rescue Service, The Chair of Hayling Lions, Vice Chair Bruce Mowett and John Cottle of Hayling Businessmen's Club.
Andrew Moon of BBC South – photo 2 above, who was on hand at the medal ceremony to broadcast live for BBC South Today, received a rousing applause for attending with his crew to help promote the Academy.
In an interview with C.I. Care Jenkin outlined the positive effects that the academy was having from the police point of view and that the constabulary will continue to support it whole heartedly.
Q Shillingford MBE of Heart of Portsmouth Boxing Academy told Andy Moon that he was amazed how in just 6 months the Hayling academy had taken a firm foothold on the Island and he was already seeing some of the older boxers coming through to his Portsmouth Academy, while as a method of improving health, well being and fitness for old and young alike the results were quite outstanding.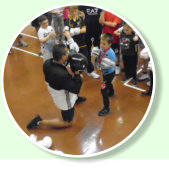 Following the awards ceremony Q held a master-class for the young boxers.
These ranged from one of our youngest boxers, Lucas Porgorzelsk, to James Dobie: the latter already tipped as a future adult boxing contender.
From age five upwards the boxing programme aims to teach the basics of the sport along with key skills such as team work, problem solving, research, discussion and social skills.
The academy works within the GB ABA structure to gain recognised achievements, give awards, raise aspirations and help individuals to gain mutual respect as some youngsters recognise the art of boxing when they do not recognise other community aspects. None-contact boxing has been found to be a great way to reach those youngsters that are looking for a programme of physical activity not covered in other leisure time pursuits.
Sessions are being held weekly at the Hayling Community Centre, Station Road and are open to any youngsters from any background, whether able bodied or with a disability.
Three sessions will run on the same Wednesday evenings:
16.30 - 17.00 for 14 to 17 year olds
17.30 - 1830 for 5 to 13 year olds
18.30 - 1930 for ladies only
Sessions for teenagers and adults are also being held at the Mengham Park sports centre on Wednesdays and Fridays at 20.00. To participate in the boxing sessions contact the academy administrator Wendy Coates on 023 9246 4391 or by email: wendylcoates@btinternet.com