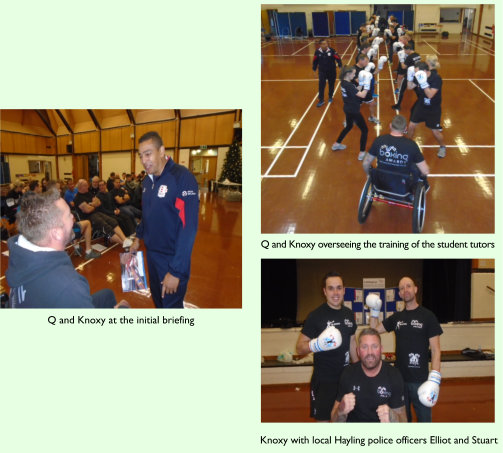 A new venture on Hayling Island, taking its inspiration from 'Q' Shillingford MBE, the founder of the Heart of Portsmouth boxing club has started up to offer youngsters, both boys and girls, from age 5 upwards a boxing programme that teaches the basics of the sport along with key skills such as team work, problem solving, research, discussion and improving learning and performance.
The idea for the academy came from Mark Coates, a Lead Practitioner at the Hayling College, who said "There has been a clear need for such a club as there is currently a void for giving an opportunity to a wide variety of youngsters to whom standard sports do not appeal. The academy will work within the GB ABA structure to gain recognised achievements, give awards, raise aspirations and help individuals to gain mutual respect as some youngsters recognise the art of boxing when they do not recognise other community aspects
Overall I see this developing youngsters into higher pathways and progression, while being fun and accessible to all"
This will give all children and young people from age 5 upwards the opportunity to develop social skills in a disciplined environment while having fun and improving general fitness levels. Non-contact boxing has been found to be a great way to reach those youngsters that are looking for a programme of physical activity not covered in other leisure time pursuits".
The costs involved in setting up the academy are being borne by the Hayling Lions who have generously agreed to back the initiative which has been found to have very positive results across other parts of the UK in assisting with anger management, stress, confidence building, mental health issues and fitness particularly in troubled young persons.
The Academy is fully supported by the Hampshire Police Force with volunteers drawn from the force, firemen from Hampshire Fire & Rescue's, Hayling Fire station, community first responders and personnel from across the Island selected as role models for their community to be trained as boxing tutors.
The initial training of the twenty-four volunteer Boxing Tutors was carried out in December by Q Shillingford and Knox White, both former Royal Navy personnel with Q being a PTI and Knoxy a three times member of the Navy Field Gun crew who competed at Earls Court in the Royal Tournament in what has been described as the toughest team sport in the world.
As a result of the days intensive training the 24 attendees gained the national Amateur Boxing Association certificate as Boxing Tutors qualified to teach the none contact Preliminary, Standard and Bronze certificate.
Sessions will be initially be held weekly at the Hayling Community Centre, Station Road and are open to any youngsters from any background, whether able bodied or with a disability.
Three sessions will run on the same Wednesday evenings:
1630hrs till 1700hrs for 14 to 17 year olds
1730hrs till 1830hrs for 5 to 13 year olds
1830hrs till 1930hrs for ladies only
This is an accredited programme of boxing and counts towards B, Tec and GCSE - see the Heart of Hayling face book page
To participate in the boxing sessions to be held weekly on a Wednesday evening, contact the academy administrator Wendy Coates on 023 9246 4391 wendylcoates@btinternet.com