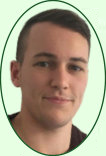 Following the resignation of its Chairman Geoff Lewis in September, Hayling St. Andrews football club took the step of appointing its youngest ever chairman, Alex Johnson (pictured left) to replace him.
Aged 25, Alex Johnson has been a member of the Football Club since the age of 6. In his 19 years at the club he has already served as a player, coach and manager.
Speaking about his appointment to the Club's highest position, Johnson said "I am honoured to be stepping into the role of chairman. I would like to thank Geoff for the fantastic job he did during his tenure and for his contribution to the club's growth and stability in the last few years.
"I have been a part of this club for my whole life and I'm looking forward to building on the work Geoff and the committee have done in the last few years. I strongly believe in giving back to the community. As a club we have an army of volunteers. They run the club on a day to day basis, through coaching or on the committee."
Alex has strong ties to Hayling St Andrews. His parents Pam and Richard have been volunteers at the club. Reflecting on the fact that his father Richard had been his first coach, Alex said "Because of seeing my dad do it I was always keen to go into coaching. When at age 13 I stopped playing football I was starting to think about whether I should try coaching. A year later, when I saw Stuart Hawley coaching a team at Mengham Park, right outside of our family house, I asked him if he needed a hand. I proceeded to help Stuart with coaching the team for 4 years until I left for university. After I graduated, Stuart asked me if I wished to manage a team. At first I was apprehensive. Being a manager is a big step up from being a coach. Anyway, I was a manager for 3 years, which was an amazing experience.
"Youngster's football now is so much more than playing a game. Playing sport helps broaden young minds with life lessons that stick with them forever. Learning about teamwork, fair play, organisation, and still doing it in a way that allows kids to have fun."
Only two months into his role as Chairman, Alex already has big plans for the club. He said "Our main ambition as a club is to have at least one team per age group, from 16 to 8 years. As things stand the club is in a great place. In just 5 years we have grown from having just 1 team to where we now have eleven. The oldest teams we have in the league at present are the U13's. We have two U 13 teams. They are in the A and C divisions within the Portsmouth Youth League. I am delighted that at the highest level of coaching within the Club we have a level 3, UEFA B licensed coach. As we move towards establishing teams up to the age of 16 years it is important to us to have more coaches at the highest level." Hayling St Andrews: www.clubwebsite.co.uk/haylingstandrews