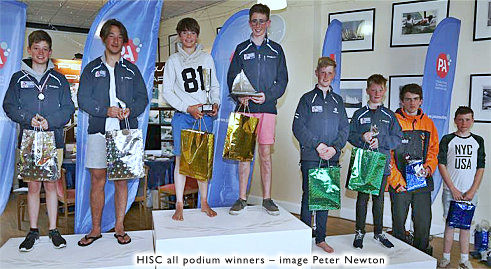 PA Consulting RS Feva Nationals 2016 held at WPNSA – image Peter Newton
Youth sailors from Hayling Island Sailing Club took a clean sweep at the PA Consulting RS Feva National Championship which took place 28th-31st May 2016 in Weymouth. HISC sailors Freddie Peters and Louis Johnson were crowned the worthy winners having shown exceptional consistency throughout the championship in every possible weather condition. Louis Wright and Jamie Allen were 2nd and brothers Henry and Rupert Jameson were 3rd. As the top three winning boats were all from HISC, the club prize also went to Hayling Island Sailing Club.
21 HISC crewed RS Feva's took part in the event which was held at Weymouth and Portland National Sailing Academy. The youth fleet had the privilege of sharing the water and boat park with many Olympic sailors from different classes, some of whom will be representing Great Britain in the Rio Olympics later this summer. A stunning performance by the Harken and Zhik sponsored sailors Freddie Peters and crew Louis Johnson resulted in their unrivalled title win.
The event saw a range of conditions, with the first two days qualifying series raced in light and sunny conditions which saw extremely close racing throughout. Monday and Tuesday saw much windier conditions providing champagne sailing conditions for the fleet which were split into Gold and Silver fleets. Harken sponsored HISC sailors Freddie Peters and Louis Johnson dominated the Gold Fleet counting three 1sts and discarding an 8th when their jib broke. The final day of racing saw winds of 22 – 29 knots which proved challenging but truly exhilarating for the young sailors. In race 1 Freddie and Louis followed their form and finished 1st securing the RS Feva National Championship title.
RYA Team GBR Sailors Dylan Fletcher and Alain Sign from the 49er class presented the prizes to the aspiring young RS Feva sailors after the 4 days of close racing at Weymouth and Portland.
Other HISC leading results in the 100+ fleet:
Junior National Champion - 1 – Freddie Peters and Louis Johnson – Hayling Island SC, 3 – Finley Dickinson and Cameron Mitchell - Hayling Island SC
Family - 1 - Henry and Rupert Jameson – Hayling Island SC
Club Prize - best 3 boats from a sailing club – Hayling Island Sailing Club
The PA Consulting UK RS Feva Nationals was a highly successful event attracting 110 boats with 220 youth participating. The event took place at the Weymouth and Portland National Sailing Academy (WPNSA) which offers world class facilities for sailing racing and training as well as a sporting venue for Olympic hopefuls and RYA Youth Classes inspiring the next generation of sailors.