The final league matches took place on 25th August with the first team having the arduous task of going to the already promoted, Bedhampton first team and the second team away for a mid-table clash against Bedhampton third team. Unfortunately the local bragging rights are with Bedhampton this year as they won both matches.
The conclusion of these games saw the 2018 season come to a close and a chance for the players, officials and everyone involved in the club to look back and reflect on the season.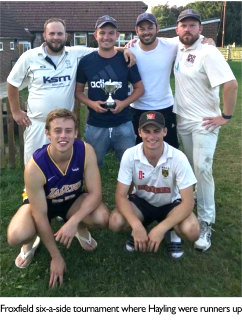 The first team battled hard but were ultimately relegated from County Division two and will compete in the very respectable Division three next season. The first eleven won four matches during the season and took sides close in a number of other matches. In the run department Michael Hallett finished the season with over seven hundred runs at an average exceeding fifty per match, a fantastic return for the Hayling talisman. There were hundreds for Michael Lever and Gary Martin as well as contributions from Chris Wells, Rory Prentice and Dave Gorvin. In the bowling department it was left to four bowlers to fight it out for highest wicket taker, ultimately skipper Rob Cordell took the top prize following a strong bowling display in the final match of the season as he finished the season with seventeen wickets. Dave Gorvin, Michael Hallett and Michael Lever all finished the season with sixteen wickets.
The second team, in the first season under new captain Tony Watton, finished in a respectable mid-table position. Some notable performances from the second team included a hundred on debut from Phillip Stride as well as consistent performances from Alex Johnson with the bat as he averaged over thirty runs per game and Tony Watton who scored close to three hundred runs for the season. The wickets were mainly shared around with Andy Shaygen, James Swan, Tony Watton and club chairman James Lever all collecting thirteen wickets.
James Lever returned figures in one game of five wickets and conceding only one run, a brilliant effort for the veteran seamer.
The club also runs a midweek team who finished mid-table in the Portsmouth Midweek league division one. The highest run scorer was Michael Hallett and leading wicket taker was first team captain, Rob Cordell. The side recently competed in a six-a-side competition and were beaten in the final by premier league side Titchbourne Park.
The club would like to thank everyone involved and as always, welcomes new members who can contact the club through facebook, Instagram or via email at: haylingcricket@gmail.com