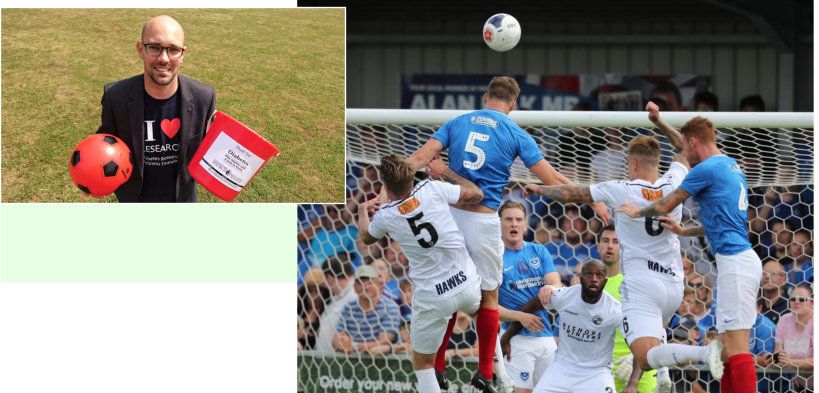 Leading Hampshire based charity Diabetes Research and Wellness Foundation (DRWF) has been signed by Havant & Waterlooville Football Club, known as The Hawks, to kick-off the new soccer season in an energetic health awareness and fundraising campaign as the Official Community Champion Partner.
Jeremy Ramsden, Commercial Manager at Havant & Waterlooville Football Club says the new partnership has huge potential: "The pre-season friendly with Portsmouth in July was a great warm-up game for our new partnership and a huge success for us and DRWF, who made a collection in the ground, with fans displaying their generosity to the charity which demonstrates what we can achieve in the coming season.
"This is not only about fundraising but also in engaging with fans and the Hawks Business Club in developing a close partnership to generate greater awareness of Diabetes and DRWF which does great work in both supporting local people as well as funding vital national research."
DRWF has welcomed the new partnership with the Hawks. Tim Green, DRWF's Head of Community Fundraising said: "We are really pleased to have been selected as Havant & Waterlooville's Official Community Champion Partner. It's important for us to be able to connect with people in this way and sport is a great platform for raising awareness as well as business support and fundraising.
"There are many types of diabetes and it's good to raise better understanding of the condition. The onsite of Type 1 for example can come out of the blue and affect people who appear to be otherwise very fit and healthy, so it's important to know the symptoms. For Type 2 which is more related to weight and fitness we're keen to encourage healthy lifestyles and this is a great environment to do so through our literature, membership network, social media and the club's web site.
"The Hawks fans are fantastic and have already made generous donations during our collection at the pre-season friendly with Portsmouth FC. I'm also looking forward to networking at the Hawks Business Club, to spread the word of how we can help them provide information and raise awareness with members and their employees."
The partnership with Havant & Waterlooville Football Club launches fully in the new football season in a campaign raising awareness of Diabetes and the work of DRWF with local health professionals in keeping people living with diabetes well until a cure is found.